Lacey Turner to star in live BBC Frankenstein show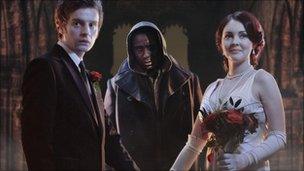 Former EastEnder Lacey Turner is to star as the bride of Frankenstein in a live musical retelling of Mary Shelley's classic novel on BBC Three.
The actress, 22, will play Elizabeth Lavenza in front of an audience of 12,000 people at Kirkstall Abbey, in Leeds, on Saturday 19 March.
She said she was looking forward to the "adrenaline rush" of the live show.
She will be joined in the cast for Frankenstein's Wedding... Live in Leeds by David Harewood and Andrew Gower.
Gower will play Victor Frankenstein while David Harewood, who played Nelson Mandela in Mrs Mandela on BBC Four in 2009, will play the Creature.
A spokesman for BBC Three said the production, which follows on from the station's live broadcasts of Manchester Passion, in 2006, and Liverpool Nativity, in 2008, would be a mix of "live drama and contemporary music".
Turner said she was "already very excited about my makeover".
Her co-star Harewood said: "Combining so many different elements - live acting, dance, drama and, of course, the large audience at home and at the performance - was just too dazzling to turn down."
Ticket applications open on Friday on the BBC Three website.