Maxine Peake attacks 'classist' acting profession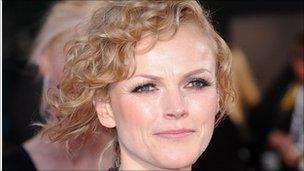 Actress Maxine Peake, who starred in Channel 4's Shameless, has hit out at the class snobbery she claims affects women in her profession.
The 36-year-old told the Radio Times she struggled to name more than one leading British working-class actress.
"There's only Samantha Morton really," said the Dinnerladies star.
"All the others - Kate Winslet, Keira Knightley, Emily Blunt, Rebecca Hall - they're all brilliant, but there's no female working class."
Peake will be seen next week as an ambitious barrister in BBC One drama Silk and claims she was told to tone down her Lancashire accent for the part.
"We're still obsessed with accent and class in this country," she told the magazine.
A BBC spokesperson was not immediately available for comment.
Bolton-born Peake was brought up on a council estate and trained at the Royal Academy of Dramatic Art in London.
"I remember feeling, at drama school, that if you were male and working class you were a bit of a poet, a working class hero," she said.
"But if you were female, you were just a bit gobby and a bit brassy and common."
Peake's other roles include playing Moors murderer Myra Hindley in 2005 drama See No Evil - a role Morton has also played, in 2006's Longford.
She also appeared in the BBC's Criminal Justice and played opposite Ken Stott in 2008's Hancock and Joan.
Related Internet Links
The BBC is not responsible for the content of external sites.