'Low awareness' problem for 2012 Cultural Olympiad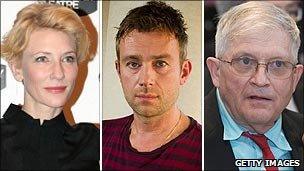 Public awareness of Britain's Cultural Olympiad, planned to mark the London Games of 2012, is low and could be better, its organisers have conceded.
Ruth Mackenzie, its cultural director, said recent research showed awareness of the four-year "cultural celebration" is at 9%, its highest level to date.
But she told the London Assembly she expected interest to rise in October when tickets for events go on sale.
"We have not yet adequately told the story," a committee heard on Tuesday.
It was also told that some people may have taken part in an event without realising it was part of the Olympiad.
These include the Big Dance event of July 2010, which featured nine days of dance events in unusual places throughout London.
Organisers will now focus on the Olympiad's key event, a 12-week nationwide arts festival running from 21 June to 9 September 2012.
Actress Cate Blanchett, Blur's Damon Albarn and artist David Hockney are among the big names who are already lined up to participate.
Ms Mackenzie was speaking before the London Assembly's economic development, culture, sport and tourism committee.
Related Internet Links
The BBC is not responsible for the content of external sites.