Ralph Fiennes brings Shakespeare's Coriolanus to screen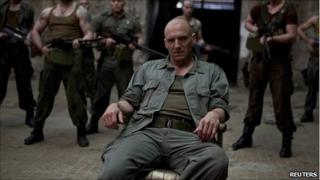 Actor Ralph Fiennes has made his movie directing debut with a version of Shakespeare's Coriolanus, unveiled at this year's Berlin Film Festival.
The play is less familiar than some of Shakespeare's other great stories about tragic heroes, such as Hamlet, Othello and King Lear.
But thanks to the Schindler's List and English Patient star, Caius Martius Coriolanus is about to become a lot better known.
The play tells of a proud Roman warrior who, having been turned out of the city, joins an enemy tribe and returns intending to raze it to the ground.
"When I played him on stage 10 years ago, I always saw this as a film," explains Fiennes, whose other screen credits include The Avengers and the Harry Potter series.
"I find him profoundly moving. What you have is essentially a boy in a soldier's body.
"I think Coriolanus is conditioned to be something like a Samurai. His whole being is to make war.
"He is unable to make compromises, he can't embrace politicians. He sticks to the truth even when it makes him unpopular."
Fiennes not only directs but stars in the film alongside Vanessa Redgrave as his mother Volumnia and Gerard Butler as his bitter enemy Aufidius.
There is a post-modern feel to this version, with echoes of the Balkan conflict of the 1990s. Scenes depicting food riots, car bombs and urban warfare make it uncomfortably contemporary.
'Brutal' changes
"We had to look for cheap locations to shoot in and Montenegro presented itself, as did Belgrade [in Serbia]," Fiennes says.
Yet he insists the film "suggests other conflicts" as well. "It could be modern Burma, Athens or Egypt," he goes on.
"I also see echoes of Shakespeare's original text in recent events - the financial collapse, the student protests and riots in the Middle East."
Events in the film are narrated via television news bulletins, with Channel 4's Jon Snow making a cameo appearances.
Fiennes and screenwriter John Logan did not change any of the text, but they did make cuts.
"We had to be brutal," admits Logan, whose next role will be as co-writer on the as yet untitled new James Bond film.
"I have a bust of Shakespeare on my desk, and halfway through I had to put a blindfold on him so he wouldn't see what I was doing."
It is always a brave move to adapt the Bard for cinema. Yet critics at Berlin have described Fiennes' version as "a triumph", praising its "clarity and intelligence."
'Relief'
Others have compared his debut - considered a serious contender for Berlin's prestigious Golden Bear prize - to Kenneth Branagh's Henry V.
For Logan, the positive feedback is a "relief".
"The bodies of directors who have adapted Shakespeare badly are strewn all over the landscape of cinema," he adds.
Coriolanus's problems making the transition from warrior to politician - he cannot deal with the press or flatter his people - contrasts with today's media-savvy leaders.
"He refuses to be anything other than as he is," says Fiennes. "He does what is requested of him, with the minimum of politeness, and the people turn on him.
"There is an echo of modern elections there."
So does this mean Fiennes will continue to work behind the camera? "I loved it," says the actor, whose sister Martha is also a film-maker.
"My great team saved (me) continually, but I loved the collaborative energy of directing and the many tough and scary moments it presented.
"I have got the bug, no doubt about it."
The 61st Berlin Film Festival runs until 20 February.