Rod Stewart and Penny Lancaster celebrate birth of boy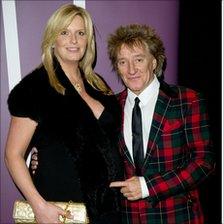 Rock star Rod Stewart has become a father for the eighth time at the age of 66 after his wife, Penny Lancaster, gave birth to a boy.
Aiden was born on Wednesday in the UK weighing 7lb 12oz.
A statement released on the couple's behalf said they were "proud and thrilled" and both mother and child were healthy.
Aiden is Stewart and Lancaster's second child, their first son is five-year-old Alastair.
The statement said: "After the long-awaited arrival of their second child, Rod and Penny are proud and thrilled to welcome Alastair's baby brother, Aiden, into the world.
"Mother and baby are healthy and blissfully happy."
The couple had problems conceiving naturally and Lancaster, 39, became pregnant on the third cycle of IVF treatment.
In a magazine interview last year, she revealed she was pregnant and discussed the difficulties they had experienced.
Recalling the moment she found out she was expecting, she told Hello! magazine: "I couldn't believe it. I burst into tears. I called Rod when I was still sobbing."
Stewart married Lancaster, his third wife, in Italy in 2007.
The couple, who have been together for a decade, discovered they were expecting again while celebrating their wedding anniversary in Portofino, Italy.
Stewart has six children from previous relationships.
He had a son and a daughter with first wife Alana Hamilton and a daughter in 1987 with model girlfriend Kelly Emberg.
Stewart's marriage to Rachel Hunter, which ended in divorce four years ago, produced two children.
The star also had a daughter, Sarah, in the early 1960s, who was adopted into another family.