Nader and Simin: A Separation wins Berlin Golden Bear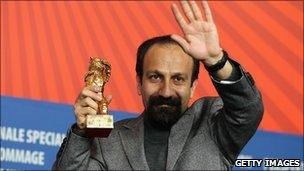 Iranian drama Nader and Simin: A Separation has won the Golden Bear award at the Berlin Film Festival.
Director Asghar Farhadi's film, which also took the best acting prizes, tells the story of a troubled marriage.
He paid tribute to fellow Iranian Jafar Panahi who could not sit on the Berlin jury after he was jailed on charges of working against his government.
"I really think his problem will be solved and I would like him to stand here next year," Farhadi said.
Farhadi, who won best director at Berlin two years ago for his film About Elly, said: "I never would have thought that I would win this prize."
He said the film's victory offered "a very good opportunity to think of the people of my country, the country I grew up in, the country where I learned my stories - a great people".
Nader and Simin: A Separation - which pits one family against another in a legal battle over the care of an elderly man who suffers from incontinence - highlights the gap between middle class and poorer, more traditional Iranians.
The best actor award went to the film's male ensemble, led by Peyman Moaadi.
And the movie's female ensemble, led by Leila Hatami, picked up the best actress award.
But Farhadi lost out on the best director award to German Ulrich Kohler.
Kohler was honoured for his film Sleeping Sickness, the tale of a corrupt Western aid programme in Africa.
The Silver Bear best film runner-up prize went to Hungarian director Bela Tarr's The Turin Horse.
Tarr, 55, told reporters after the ceremony that the slow-moving, black-and-white film about the isolated lives of a farmer and his daughter, would be his last.
"I believe that in this film everything comes together," he said. "Everything is contained in this film - everything that I believe needs to be shown in film."
US director Joshua Marston and his co-writer Andamion Murataj took the best script award for The Forgiveness of Blood, a drama set in Albania.
Argentine film The Prize won two technical awards while German director Andres Veiel's If Not Us, Who? won the innovation award.
This year's jury was chaired by actress and film-maker Isabella Rossellini.
Related Internet Links
The BBC is not responsible for the content of external sites.