Obituary: Katie Boyle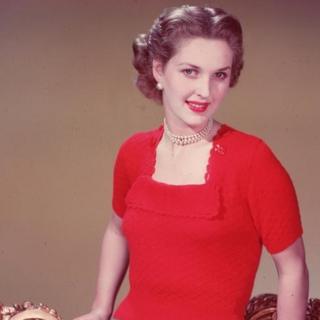 Katie Boyle, who has died aged 91, once said that she was famous for being famous.
But her glamour and ebullience carried her through more than half a century in the public eye, especially as a regular hostess of the Eurovision Song Contest.
Her multilingual outings on these occasions reflected her glamorous but turbulent upbringing.
And she was also a familiar face on TV panel shows and had a stint as an agony aunt.
She was born Caterina Irene Elena Maria Imperiali de Principi di Francavilla on 29 May 1926 in a Florentine palace that had once belonged to the Italian royal family.
Despite the luxurious surroundings, her childhood was marred by her parents' divorce and her father's domineering rule.
After nine months, she was rescued by her English mother who brought her back to London.
Her suave European style soon brought her modelling work and there was a marriage to Richard Bentinck Boyle, 9th Earl of Shannon. The couple divorced in 1955 but she retained the family name.
In the same year she married the racehorse owner Greville Baylis.
She also appeared in a number of films and had a spell as an on-screen continuity announcer for BBC Television.
After a brief appearance on the television show Quite Contrary, she presented the programme for two years.
Sophistication
Throughout the 1960s she was a regular on popular panel shows such as What's My Line and Juke Box Jury.
She also became the face of Camay soap in television adverts, despite being allergic to the product herself.
But her highest profile role was as the four times presenter for that enduring kitsch extravaganza the Eurovision Song Contest.
She hosted the show on four occasions when it was held in the UK, three times in London and once in Brighton.
Her poise and sophistication, coupled with her ability to speak several languages, made her a favourite with international audiences.
She hosted a Radio 2 programme, Katie and Friends, and wrote an agony column for the TV Times for nearly two decades.
Following the death of her second husband, she married the theatre impresario Sir Peter Saunders, who had been responsible for the world's longest-running play, Agatha Christie's The Mousetrap.
Later in life she brought her great love for dogs to both television and radio, where she often gave other celebrities advice on looking after their pets. She also became a tireless supporter of many animal charities.
In 2004, she made an appearance on The Weakest Link, fittingly for an edition dedicated to the Eurovision Song Contest, the show that had endeared her to millions many years before.