Enid Blyton and the Mr Tumpy mystery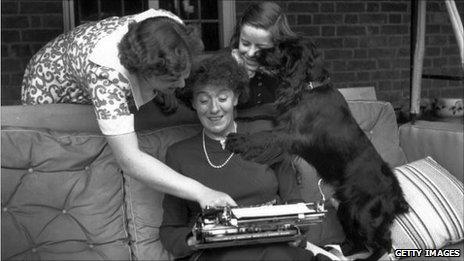 An unpublished Enid Blyton novel gives a fresh insight into the author's work - but throws up a mystery over when it was written and why it was not made public.
"It was when Mr Tumpy was coming home with the butter that he saw the blue and yellow caravan standing in a little dell of primroses all alone. It looked lovely."
These are the opening words of Mr Tumpy's Caravan, a draft version of a full-length Enid Blyton novel that has, for some reason, been gathering dust for decades.
The pages are now yellowing and the corners of the brown folder in which it was stored - bearing a label with the book's title on the front and Blyton's address written in pencil underneath - are creased.
But there are no obvious clues about why it never saw the light of day. Was it not deemed good enough by the legendary author? Or was it dismissed by an agent or publisher?
Or was it just put in a drawer amid Blyton's prolific writing schedule - she famously claimed to churn out a book a week at her typewriter - and forgotten about?
It is an intriguing mystery. But first, Blyton fans will be keen to know what is in it.
"It's quite surreal," says Hannah Green, archivist at the Seven Stories centre for children's books in Newcastle and one of the few to have read the story in recent years.
"It's about a caravan on legs which gets up and walks around," she continues.
In the caravan with Mr Tumpy are his two friends, Muffin and Puffin, and a dog called Bun-Dorg.
"They live in this caravan and go off on adventures," she explains. "They don't really control it - it decides where it's going to go and when it's going to stay somewhere.
"They have various adventures. They end up crossing the ocean. They have to fight a dog-headed dragon to save a princess's kingdom and they're eventually rewarded by the princess.
"But it turns out that the dog-headed dragon doesn't actually want to fight, so they have a little chat with it and decide to pretend to have a big battle when actually it's all fixed.
"The dragon leaves and they look like these very brave victorious fighters. when really they're not at all.
"It's quite a surreal book, but very funny and very entertaining. And very original, as a lot of her fantasy novels were. Some very original and strange ideas in there."
The typescript was part of a bundle of Blyton treasures bought by Seven Stories last year.
It was initially believed to have been a version of another book, Mr Tumpy and His Caravan, which was published in 1949.
Though it featured some of the same scenarios, that was a collection of comic strips rather than a written novel. Overall, the two stories appear to be rather different.
"To my mind, they've nothing in common at all because they're completely different vehicles," says Tony Summerfield, head of the Enid Blyton Society and a leading expert on the author.
"One was a daily picture strip with three frames a day, and the other one was a full-length novel with about 20 chapters."
After writing, Blyton would normally scrutinise her manuscripts in fine detail, changing certain words here and there.
Unusually, though, there are few scribbled corrections and amendments to the draft of Mr Tumpy's Caravan.
"The fact this hasn't apparently been read through or changed in any way suggests it possibly never made it to the publisher," says Green.
The address on the front dates it to the 1930s, Summerfield says - prior to the Mr Tumpy picture book and before the debuts of the Famous Five, Noddy, the Secret Seven and Malory Towers.
Chorion, the company that controls Blyton's estate, consulted Summerfield and said it thought the script had been rejected by publishers and subsequently forgotten about.
Summerfield has seen the contents page and the first page of the story, as has Blyton's daughter Imogen Smallwood.
Blyton died in 1968 after developing dementia, and Mrs Smallwood suggests it could have been written towards the end of her life.
"I think it was not published because it wasn't up to her old standard," she says. "She was getting very confused. It was an effort to write then.
"My daughter and I both think this one page that we've got shows a lot of effort, rather than the absolute free-flow that came from her fingers to her typewriter in those old days when she wrote several thousand words a day."
The writing is "much clumsier" than her usual style, Mrs Smallwood believes. "But to a collector or a researcher, it's invaluable."
Even if it is not up to her usual standards, enthusiasts will be eager to make up their own minds.
The typescript will be part of a major exhibition of Seven Stories' Blyton archive in 2014, and visitors will have a chance to see it before then during monthly behind-the-scenes tours.
A decision about whether to publish it more widely has yet to be made by Chorion, the company that administers Blyton's estate.
Photo of the typescript reproduced with the kind permission of Chorion Rights Limited. Enid Blyton is a registered trade mark of Chorion Rights Limited. All rights reserved.
Related Internet Links
The BBC is not responsible for the content of external sites.