Adam Ant on fame, depression and infamy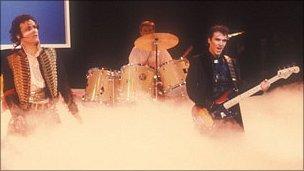 Thirty years ago, Adam Ant was one of the most recognisable stars on the planet.
Appearing on Top of the Pops in a brocaded Hussar jacket and Native American war-paint, he rode the lip-gloss wave of 1980s pop scoring hits with Prince Charming, Ant Music and Stand and Deliver.
In recent years he has battled with mental health issues and has been sectioned twice under the Mental Health Act, once after threatening people in a pub with a replica firearm.
Earlier this year, the man formerly known as Stuart Goddard returned with a handful of low-key club shows and a new double album.
He spoke exclusively to Matt Everitt about his comeback, for BBC 6 Music's The First Time programme.
"You can't help but feel he's as proud of his ongoing self-rehabilitation and the fact he feels normal enough to record and perform again as anything he's achieved in his life," says Everitt.
"That's not to say the Highwayman has disappeared. Throughout the interview there are wonderful flashes of ego and vainglory.
"But if you were once the centre of a pop world that moved on without you, it's not that easy to come back to the real world."
You've been away from the music business for so long. Why come back now?
I was approached two years ago by the O2 arena. I was offered a very good business proposition - guaranteed money.
But I was on a lot of anti-depressants, which I now know I'm physiologically allergic to. I had to get my health straight, so I said 'look guys, I don't feel I can do it'.
So then I went away and, with the help of my GP, I very gradually came off that particular drug. It took me six months to get it out of my system and I'm pleased to say I feel kind of better.
After that, I went away and wrote a double album and I'm very happy with it.
Adam Ant is The Blueblack Hussar in Marrying the Gunner's Daughter.
Adam Ant is me. The Blueblack Hussar is the character who had the stripe on his nose, who has virtually come back from the dead.
Marrying the Gunner's Daughter is a naval term for when a sailor was beaten for doing something wrong. So I figure that's a metaphor for my experiences in the music industry.
Why did you decide to become Adam Ant, instead of Stuart Goddard?
In the 1970s. I don't think it's that surprising - Sting changed his name, Cliff Richard changed his name. Lots of musicians do it.
I really knew I wanted to be Adam, because Adam was the first man. Ant I chose because, if there's a nuclear explosion, the ants will survive.
If we go back to the start of your career, Ant Music was your first big hit...
It was only kept off number one by the death of John Lennon.
By the time Stand and Deliver hit number one, you were ubiquitous. How did that feel?
You're like, "What?!" Because, before that, there were 300 shows, three long years of rejection. And suddenly they say, "You are now in the public domain and you have to deal with it".
And I felt, "Well, why not?" I almost didn't believe it, so I worked my socks off. I only had 11 days off in six years. That's probably the reason I ended up feeling rather unwell.
You've said in the past you have bipolar disorder. Did you ever feel the condition taking hold of your life?
I don't accept the terminology.
If I give you examples of some people with bipolar disorder, you'll find they're all creative and they're all magnificent in their own work.
Kurt Cobain, Edward Munch, Winston Churchill, Van Gogh, Stephen Fry. The list goes on. They're all working with an abstract palette.
You need the dark side and you need the light side to be creative. If it's all great, then you're a Teletubby. And I'm not a Teletubby.
As long as you pursue your work without hurting anybody, you should be left alone.
Mental health needs a great deal of attention. It's the final taboo and it needs to be faced and dealt with.
It's not something I'm ashamed of. It's not something I'm particularly proud of. I did wrong things as a result of it.
But there's only one thing worse than making a mistake, and that's not learning from it… and I've learnt from it.
You can hear the full interview with Adam Ant on BBC 6 Music on 27 February at 1200 GMT.
Related Internet Links
The BBC is not responsible for the content of external sites.