Queen stars launch 'moving' exhibition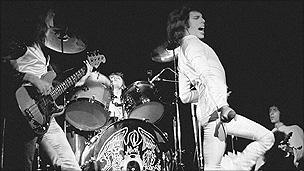 Queen stars Roger Taylor and Brian May have opened a new London exhibition to mark the rock band's 40th anniversary, calling the experience "moving".
"There are things I have forgotten," said Taylor at the launch of Stormtroopers In Stilettos - which covers Queen's formative years.
The musician added that many of the exhibits reminded him of the band's late frontman Freddie Mercury.
The exhibition runs until 12 March at the Old Truman Brewery in east London.
Themed rooms in the exhibition space - documenting Queen's journey to fame - are dedicated to the band's first albums and feature artwork, costumes made by British designer Zandra Rhodes and the band's instruments, plus a recreation of the studio in which Bohemian Rhapsody was recorded.
It also features video footage, interviews and photographs.
"It's quite shocking for us to suddenly bring back what happened all those years ago in such vivid detail," said drummer Taylor.
Brian May hopes it will be an inspiration to visitors, especially if they are musicians starting out as Queen once did.
"Once you come into this exhibition you realise that we were just boys and we got together with a dream. We worked night and day for many years and we were very lucky," said the veteran guitarist.
May and Taylor also hope the exhibition captures the importance of their style over image.
"You don't buy in your style - it comes from inside you and it's very organic," said May. "I think that is a lesson to people to have belief in your vision."
The 40th anniversary of the band is also marked this weekend with the release of a two-track single, also entitled Stormtroopers In Stilettos.
It features previously unreleased versions of early Queen tracks Keep Yourself Alive (Long Lost Retake) and Stone Cold Crazy (2011 Remaster).
"These are tracks recorded before we even had a recording deal, just the four of us and an engineer at De Lane Lea studios," said May.
"A lot of people are already saying they sound better than the first album because they're more organic, more natural and have a better feel. People will have a real chance to hear us for the first time before we signed the first deal," he added.
Stormtroopers In Stilettos is open until 12 March at the Old Truman Brewery.
Related Internet Links
The BBC is not responsible for the content of external sites.