Profile: John Galliano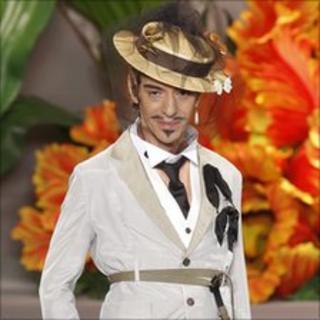 John Galliano, who has been sacked from his job as creative director for fashion house Dior amid claims he racially abused a couple in a Paris restaurant, has been described as one of the most influential designers of his era.
But the 50-year-old British designer recently billed himself as "the most normal person you'll meet in the fashion industry" in an interview with the Times newspaper.
The flamboyantly-dressed, moustached artist had been focusing on preparing the autumn-winter collections at Christian Dior and his own label for the ready-to-wear shows at Paris Fashion Week, which started on 1 March.
Born Juan Carlos in Gibraltar, he was raised in Streatham and Dulwich, south London, by a British plumber and a Spanish mother who taught him how to flamenco dance.
Galliano took over the creative helm at Dior in 1996 and has been named British Fashion Designer of the Year four times.
The young John and his sisters, Rosemary and Immacula, were always dressed in immaculately pressed and starched clothes, even for trips to the corner shop, according to the Design Museum's biography.
He attended London's Saint Martin's College of Art and Design, where at first it was thought he would be an illustrator, but he was encouraged to turn his sketches into dresses in his final year.
'Awesome ambition'
A job at the National Theatre as a dresser gave him a love of costume and drama which is reflected in his work, he says.
His 1984 graduation show called "Les Incroyables" was inspired by the 1789 French revolution. The entire collection was said to have been bought by a London boutique, and Diana Ross bought a coat from its window.
After some financially difficult years in London, he moved to Paris in 1993 where Vogue editor Anna Wintour, reportedly took him under her wing, finding him a backer, a venue and supermodels to wear his designs.
"Yes I had big knocks, but it is a ton of gold, the mistakes you make, the things you learn," he told the Times.
The newspaper says he helps Dior generate annual profits of about £588m (£933m), with some single garments selling for £50,000 each.
Galliano's often spectacular shows are inspired by history and his own travels around the world - everything from ancient Egypt to Masai tribesmen and 18th century equestrians.
In January, his spring-summer Paris menswear show was themed on Siberian winters, Russian exiles and the ballet dancer Rudolf Nureyev.
A week later, for Christian Dior's fall-winter haute couture show he reverted to the New Look heritage of the Paris fashion house with creations inspired by 1950s fashion illustrator Rene Gruau.
Known for his chameleon style, he is said to thrill fashion insiders at the end of each runway show by taking to the catwalk, always in an outrageous costume.
Galliano had been suspended from work by Dior after video clips emerged showing him shouting anti-Semitic abuse at people in a bar in Paris last week.
The Design Museum's biography describes him as a great romantic but says "behind his gentle aesthetic, John Galliano is a powerhouse, a man whose ambition to go down in history as one of fashion's greats is awesome, even intimidating".
That ambition has taken a blow after Dior's decision to fire the designer.