M Night Shyamalan's Last Airbender wins Razzie Awards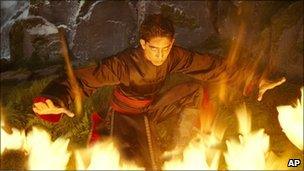 M Night Shyamalan's The Last Airbender has blown away all competition at the Razzies - Hollywood's Oscar spoof mocking the year's worst performances.
The film won five Golden Raspberry Awards - including worst director for Shyamalan - in a light-hearted ceremony on the eve of Sunday's Oscars.
Ashton Kutcher snatched worst actor for Valentine's Day; his co-star Jessica Alba won worst supporting actress.
The evening's so-called winners were chosen by 657 voters in 18 countries.
The ceremony took place in a small theatre in east Hollywood, and was the usual mixture of sketches and dance routines.
As well as the Razzie nominees, Oscar contenders such as The King's Speech, 127 Hours and Black Swan were spoofed.
Sex and the City 2 took away three awards, including "worst prequel, remake, rip-off or sequel", worst actress - won collectively by co-stars Sarah Jessica Parker, Kim Cattrall, Kristin Davis and Cynthia Nixon - and worst ensemble for its entire cast.
But it was a fantasy action film about people who can control fire, air, water and earth that stole the show, despite making $320m (£200m) at global box offices last summer.
The Last Airbender - in which a boy uses his extraordinary powers to bring harmony to a warring world - won worst film, worst director and worst screenplay for Shyamalan and worst supporting actor (for Jackson Rathbone).
It also won a special award for "worst eye-gouging misuse of 3D".
Shyamalan - who won an Oscar nomination in 1999 for The Sixth Sense - adapted the film from the animated television series Avatar: The Last Airbender.
"He managed to take a cartoon property and make it even less lifelike by making it with real actors," said Razzies founder John Wilson.
"Most people who like the show, and this would include my 14-year-old son, hated the movie. It made no sense whatsoever."
Related Internet Links
The BBC is not responsible for the content of external sites.