Black Swan dances to victory at Spirit awards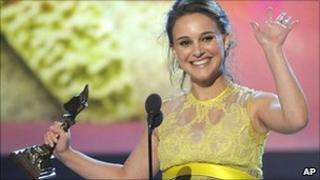 Black Swan was the big winner at the Spirit Awards, the annual event honouring independent US movies and one that acts as a warm-up to the Oscars.
The ballet thriller won best film and also earned the best director prize for Darren Aronofksy and best actress for Natalie Portman, as well as best cinematography.
Portman is the hot favourite to win the best actress Oscar on Sunday.
Saturday's awards took place in a giant tent on a blustery Santa Monica beach.
The King's Speech won the best foreign film prize, while elusive British graffiti artist Banksy's Exit Through the Gift Shop won best documentary.
Thierry Guetta, a Frenchman who in the course of the film becomes a street artist known as Mr Brainwash, accepted the award.
Asked if Banksy would be attending the Oscars, he told the BBC: "The academy is kind of scared, is he going to come, is he not? It's like the movie - there's a big question mark."
James Franco, who will co-host Sunday's Academy Awards, won best actor at the Spirits for his role in Danny Boyle's 127 Hours, about a hiker forced to amputate his own arm.
Winter's Bone, about a girl's search for her drug-dealing father, earned both the supporting acting prizes - for John Hawkes and Dale Dickey.
Both 127 Hours and Winter's Bone are among the contenders for best picture at the Oscars.
Best actress winner Portman joked about the difficulty of financing Black Swan.
"This was such an independent film-making experience ," she said. "My ballet teachers said every day 'so when do we get paid?'"
Aronofsky praised Portman, saying: "To have this incredible performer give you everything she's got and then train for a year. I'll always be in debt to Miss Natalie Portman."
King's Speech director Tom Hooper claimed backstage that he had not been following predictions about the film's Oscar chances.
But he did admit to some pre-Oscar jitters: "I think anyone would be not in their right mind if they were not nervous at the prospect of possibly making a speech in front of half a billion people."
The lesbian family drama The Kids Are All Right won the screenplay award for Stuart Blumberg and Lisa Cholodenko, who are nominated for best original screenplay at the Oscars.