Winter's Bone director on upside of being 'underdog'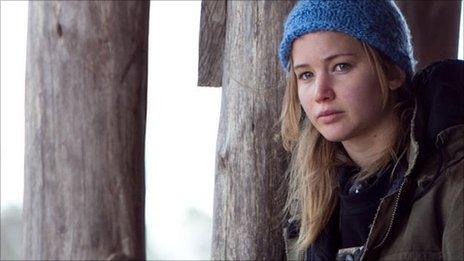 On the eve of the Oscars, Winter's Bone director Debra Granik is being realistic about the chances of her film taking the top prize.
"I think its purpose was to be the underdog," she tells the BBC, "which meant we got showered with so much love and affection. People are so sweet to the underdog, it's a sweet place to be."
Granik has good reason to feel loved. The film won the Grand Jury Prize for dramatic film at the 2010 Sundance film festival more than a year ago.
Dozens of nominations and wins have followed, culminating in four Oscar nominations for best picture, best adapted screenplay, best actress for Jennifer Lawrence and best supporting actor for John Hawkes.
Released in the UK last September, Winter's Bone tells of a young woman Ree Dolly (Lawrence) whose attempts to locate her missing father raise the hackles of her poor rural community in the Ozark mountains, Missouri, where the film was shot.
With a budget of $2m (£1.2m), the film has made almost $8m (£5m) worldwide. Its success is being seen as a beacon of hope to other independent film-makers with small budgets.
In the Oscars best picture category it sits alongside Inception - which has made more than $823m (£511m) - and Toy Story 3 with more than $1bn (£621m) global box office.
Granik, who is based on the east coast, has been taking advantage of Oscars week to work on new projects while in Los Angeles.
"It's the only thing you can do to keep grounded - awards are ephemeral," she says.
The film's success is down, in part, to the way it was released in the States by its distribution company, Roadside Attractions.
Co-writer and producer Anne Rosellini says: "The biggest thing that made the film blossom early on was that Roadside took a huge risk in opening the film in the heartland right away. Usually you wait a few weeks to see how it does on the coasts."
Granik also credits the "huge support" of the journalistic community.
"Journalists have done such hard work on behalf of the film. Those who liked it were extremely vocal and encouraged audiences to check it out."
What are her thoughts on the final approach to the Academy Awards ceremony?
"I've never been a speculator, that's why I'm a neo-realist," she laughs.
"I don't know about tomorrow, but we feel like we can't experience any more gratitude. We can't be any more pleased with the life that this film was given.
"So tomorrow is icing that hurts your cavities."
Related Internet Links
The BBC is not responsible for the content of external sites.