Jane Russell: Your memories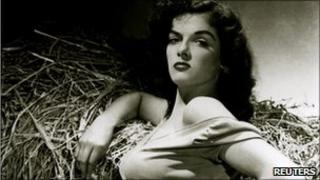 One of the most popular screen sirens of the 1940s and 50s, Jane Russell, has died in California at the age of 89.
She starred in Hollywood films such as The Paleface and Gentlemen Prefer Blondes, alongside luminaries Bob Hope and Marilyn Monroe.
She was also heavily involved in charity work and through her organisation, World Adoption International Fund (Waif), helped thousands of children find adoptive homes.
BBC News website readers have been sending their tributes and memories of the formidable pin-up.
Mary Warren, Seattle, US
My mother was married to her brother Ken.
Jane took me in for a year when I was 17. I remember she was 47 and I thought that was old!
I remember her coffee table that Howard Hughes gave her. It was a huge distressed oak octagon. It was so big, we had Thanksgiving dinner on it one year. While we all held hands and prayed before dinner, her dog was in the kitchen and he ate the turkey.
Jane was larger than life. She had a heart of gold too. She paid for my tennis lessons which I took from a pro at the Montecito Inn, behind her beach home in Santa Barbara.
I never got to drive her Mercedes convertible, but I did get to drive the big Lincoln to the fish market.
There are so many memories that I can't write them all here.
But one that stands out most in my mind was her work with Waif, and some of the rodeos and fundraisers for that charity.
In 1975 I got married at the Chapel at Russellville, a family compound in Van Nuys, California. Grandma Russell, (Jane's mother) was the minister.
I lost track of Jane in the 1990s. I kept in touch with her brother Tom until he passed away a couple of years ago.
Jane inspired my life.
Lou Slocum, Vista, US
I got to see Jane Russell last year for the first and only time when she appeared as a special guest at the Coronado Arts Ball in San Diego.
She was funny and feisty and even sang a tune. She had been performing regularly in a dinner show at the Radisson Hotel in Santa Maria, California where she lived.
She said the most common question asked of her was who was the best kisser in Hollywood. Her response? "Bob Hope - those blubbery lips - oh my God!"
At this year's Coronado Arts Ball, my lady friend bid on and won a personally signed photograph of Jane Russell from Howard Hughes' infamous movie, The Outlaw, which she gave to me.
I cherish it all the more now that Ms Russell has permanently left the stage.
Alan Walsh, Vancouver, Canada
I remember meeting Jane as a very young, very junior and very temporary bar assistant at the Broadway Club, Failsworth, Manchester where she appeared for one night only.
It was so long ago (I'm guessing approximately 1969) it should have disappeared into history but for the way she treated me - at the time an extremely callow youth.
She did, however, and most graciously, save my blushes when I was given the task of serving her refreshments backstage - twice.
She was appearing in a backwater compared to Hollywood but her professional attitude and demeanour varied not a jot from what I had seen on the big screen.
I'm sure she will be missed by those privileged enough to have known her.
B.D. Compton, Johannesburg, South Africa
I saw the The Outlaw in 1949 and I immediately had a crush on her at the ripe old age of eight.
However, her greatest role was in Gentleman Prefer Blondes, where she gave an outstanding performance with Marilyn Monroe.
She was a good singer and actress and certainly not the American equivalent to Jane Russell of England - she was far more talented in all departments.
Emma Fitzgerald, Surbiton, UK
I saw Jane Russell for the first time on the big screen at the British Film Institute in Gentlemen Prefer Blondes, during its Howard Hughes season.
Any woman who can hold her own and perhaps shine even brighter in a film than Marilyn Monroe is one talented and sexy screen siren.
Her rendition of Diamonds are a Girl's Best Friend as Lorelei Lee is superb. Her comedy timing and quick witted delivery makes her a star.
Is There Anyone Here for Love? is a song made for Jane Russell's talents, very tongue in cheek.
Another Golden Hollywood icon gone.
More of your comments
Jane Russell was a big name in the movies when I was a youngster. I remember her in The Paleface, Gentlemen Prefer Blondes and Underwater. She was to many in the 1950s what Jayne Mansfield was to the British and Marilyn Monroe to the Americans. I suppose she may have played second fiddle to Marilyn but there is no doubt in my mind that she was a big star. Gordon Jackson, Nanaimo, Canada
I saw Jane Russell for the first time on the big screen in Gentlemen Prefer Blondes. Any woman who can hold their own and perhaps shine even brighter in a film than Marilyn Monroe is a talented screen siren. Her rendition of Diamonds Are a Girl's Best Friend as Lorelei Lee is superb. Her comedy timing and quick-witted delivery makes her a star. Another golden Hollywood icon gone. Emma Fitzgerald, Surbiton, UK
What a great actress. She will live on in her films. Tracey Hawkins, Worcester, UK
I remember well Bob Hope and Jane Russell in The Paleface. The brilliance of the two together made a film I have remembered all my life. Jane Russell really brought to life the parts she played. Clifford Walker, China
I loved her in Gentlemen Prefer Blondes. She was extremely beautiful, a wonderful singer and a good actress in my opinion. Onomen Michael Ojesebholo, Manchester, UK