Oscar TV ratings drop by 10% in US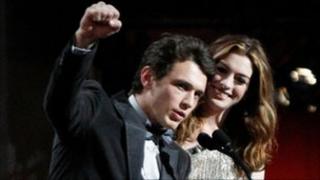 More than 37 million Americans tuned into the 83rd Oscars ceremony on Sunday on the ABC channel, down 10% on the previous year.
But the show was still the most-watched of the night, with more than double the audience of other TV networks combined.
It also beat the viewing figures for 2009 (36.3m) and 2008 (32 million).
Many critics panned the ceremony, which was hosted by two actors - Anne Hathaway and James Franco - rather than the traditional comedians usually used.
The Hollywood Reporter said it "could go down as one of the worst Oscar telecasts in history."
The New York Times said "the prolonged effort to pander to younger viewers was downright painful" at times.
Time magazine said the experiment to use actors instead of comedians to host the event had largely failed.
But Entertainment Weekly said Hathaway and Franco were "marvellous Oscar hosts", calling them "funny, poised, relaxed and smart".
The King's Speech picked up four Oscars at the 83rd Academy Awards, including best picture, best actor, best original screenplay and best director.
Meanwhile, actor Corey Feldman has criticised the ceremony for missing out his friend and co-star Corey Haim in the memoriam segment of the Oscars ceremony.
Feldman and Haim starred in several movies together, including The Lost Boys, License to Drive and Dream a Little Dream in the 1980s.
"Corey's films have earned the industry over a half a billion dollars, and his work remains an inspiration to young artists worldwide," Feldman told the TMZ website.
"Corey dedicated his life to the film industry. The same industry that failed to dedicate even 30 seconds to his memory."
In a statement to TMZ, the Academy responded: "Whatever the length of the sequence, there will always be fans and family members of those not included who will be disappointed by their omission. The Academy extends its understanding and its apologies to those who missed seeing a favourite face in this year's feature."