Colin Firth looks to life after Bertie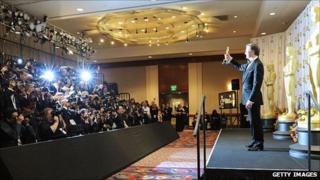 Now the Oscars dust has settled, how easily will Colin Firth leave behind the role that has left audiences applauding in the aisles?
When Colin Firth accepted his Oscar with one of the impeccably constructed speeches that have become so familiar during this awards season, he joked: "I have a feeling my career's just peaked."
Backstage after his Oscar win on Sunday, Firth admitted to the BBC that he was looking forward to having a break from King George VI, known to his family and speech therapist as Bertie.
"I've started having fantasies about what I'll do," the actor said.
"I think I'm going to cook a lot. I don't think I'm particularly good at it but I'm going to inflict my cooking on anybody within range. I tend to find that's a very good way to decompress."
When he shot The King's Speech in the UK in winter 2009-10, the 50-year-old actor surely could not have predicted quite how much the character of Bertie would consume his life over the following year.
Industry magazine The Hollywood Reporter recently published a two-page spread documenting Firth's globe-trotting campaign, undertaken to promote the British indie film and to ensure he was in all the right places as the Oscars campaign gathered pace.
Those with a phobia of jet-lag may want to look away now.
The King's Speech had its world premiere at the Toronto International Film Festival in September 2010, where it won the top audience award.
It was the first of many wins for the film about Bertie's battle with his stammer. Between Toronto and the Oscars, a hectic schedule saw him shuttle across the Atlantic on an almost weekly basis.
In mid-December, Firth was at a film festival in Dubai before returning to London for the pre-Christmas British press junket.
January took him to Paris, Palm Springs, New York, Los Angeles, London and then back to LA for the directors' and actors' guild awards, before motoring up the coast to the Santa Barbara film festival.
Now a major Hollywood player, Firth remains at heart a self-deprecating Englishman - especially during awards speeches.
At the Golden Globes this year he thanked the gala's organisers for helping him stave off a midlife crisis: "Right now this is all that stands between me and a Harley Davidson."
He has previously joked that his whole career would probably boil down to the scene in the 1995 TV version of Jane Austen's Pride and Prejudice, when Mr Darcy emerges from a lake in a soaking wet shirt.
Until the success of The King's Speech, that was still arguably his defining role.
His other movies include 1998's Shakespeare in Love and Bridget Jones's Diary in 2001, in which he played love interest Mark Darcy.
Firth gave an acclaimed performance as the artist Johannes Vermeer alongside Scarlett Johansson in Girl with a Pearl Earring in 2003 and reacquainted himself with Bridget Jones the following year.
And in 2008, he played one of Meryl Streep's old flames in Abba musical Mamma Mia. His first Oscar nomination came last year for A Single Man, made by fashion designer-turned-director Tom Ford.
He lost to Jeff Bridges, but that recognition meant he was regarded as a serious contender in Hollywood and put him firmly in the frame for the golden statuette when The King's Speech came along.
So what next for Firth?
"I want to do comedy next, gravitas is hugely over-rated," he told BBC Radio 4's Today programme. "I want to do something that amuses me now that changes the pace, changes the tone, continue my long tradition of making a fool of myself."
After The King's Speech, Firth found time to film Tinker, Tailor, Soldier, Spy, a new version of John le Carre's Cold War espionage drama. He plays a British intelligence officer suspected of being a Russian mole.
He is now due to shoot film a remake of 1966 crime caper Gambit, opposite Cameron Diaz, in London in May.
With a script by Joel and Ethan Coen, the new version tells of an art curator who tries to con a wealthy collector into buying a fake Monet painting.
The original film starred Sir Michael Caine and Shirley MacLaine and was nominated for three Oscars.
According to the LA Times, Firth's name is also attached to Park Chan-Wook's mystery drama Stoker alongside Nicole Kidman. There is also continuing speculation about Bridget Jones 3.
If he has reached his peak, he has every chance of staying there for some time to come.