Fela Kuti musical to travel to Nigeria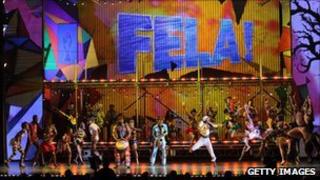 An award-winning stage musical about the life of the late Nigerian musician Fela Kuti is to be staged in his home country for the first time.
Fela! opened in New York in 2008 and transferred to Broadway in 2009, winning three Tony awards.
It will be staged at the upmarket Eko Hotel in the capital, Lagos, in April.
Fela! explores the musician's life as an artist and political activist through more than two-and-a-half hours of extravagant song and dance routines.
Organisers said: "The aim of Fela! in Lagos is to unite and connect Africans in spirit and unity, to serve as a catalyst for cultural revival in Nigeria, and to celebrate Fela Kuti, for the contribution he has made to Nigeria and the world."
Kuti, who died in 1997 from an Aids-related illness, was the king of Afrobeat, a blend of jazz, funk and African rhythms.
He also became a national icon for speaking up for Nigeria's poor and challenging the country's military regime.
The show is set in his nightclub The Shrine, six months after the death of his mother at the hands of the government.
'Global figure'
One performance of the show will also be staged at his family's New Afrika Shrine club, which is modelled on Kuti's original venue, the musician's daughter Yeni Kuti told the Agence France Presse news agency.
Producer Stephen Hendel told The Associated Press that Kuti was "without question one of the great composers and musicians and activists of the second half of the 20th Century."
"He's as much of a global figure and a global artist as anybody," he said.
The Broadway cast will make the trip, including Sierra Leonean-American actor Sahr Ngaujah in the title role.
The show's executive producers include rapper Jay-Z and actors Will and Jada Pinkett Smith.