London 2012 comedy role for Olympics chief Lord Coe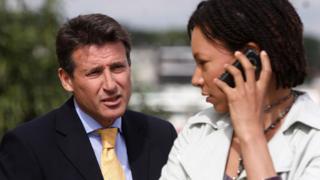 The man at the helm of the London 2012 Olympic Games has turned his hand to acting in a new BBC comedy series.
Lord Coe makes a cameo appearance in an episode of Twenty Twelve, which begins on 14 March on BBC Four and runs for six weeks.
The series, produced as a mock documentary, is set in the fictional offices of the Games organisers.
Lord Coe said: "It was a very short part of my day so I can't say that a Bafta is on its way."
The former 1500m world record holder, who fought a legendary track battle with Steve Ovett in the 70s and 80s, joked that he had no plans for a new career in acting.
The cast includes Hugh Bonneville, who said the cast were "thrilled" when Lord Coe agreed to take part.
"On the day itself he was everything you'd expect from a sporting legend," the Downton Abbey star said.
"He was prepared, focused, determined to get to the end of the line - very much the Steve Ovett of acting."
Other members of the cast are Jessica Hynes, who played Cheryl in the Royle Family, Olivia Colman, Amelia Bullmore, Vincent Franklin and Karl Theobald.
The series has been described as being "about the people paddling hard beneath the water to make the Olympics happen in London 2012".
It was written and directed by John Morton, whose credits include People Like Us.