Swearing 'no big deal' to Dame Helen Mirren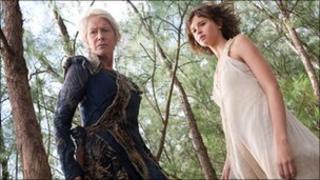 Oscar-winning actress Dame Helen Mirren discusses blank verse and bad language as she promotes The Tempest, a radical new film version of one of William Shakespeare's final plays.
"The whole drama of swearing is so overblown," says Dame Helen Mirren with a sigh.
"It's idiotic that it's made into such a big deal."
The Oscar-winning actress is here to talk about The Tempest, a new film adaptation of the William Shakespeare play that sees her take on the traditionally male role of exiled sorcerer Prospero.
For the moment, however, it is not blank verse or Elizabethan poetry that is on her mind, but words of a somewhat cruder nature.
The 65-year-old has just returned from the Academy Awards, where The King's Speech - a film where strong language is used in a speech therapy context - won the best picture award.
The ceremony also saw Melissa Leo, this year's recipient of the best supporting actress prize, leave the Kodak theatre audience open-mouthed after dropping what is euphemistically called "the F-bomb" during her acceptance speech.
"I think she was totally over-excited," says Dame Helen, whose appearance as an Oscar presenter last Sunday saw her return to the venue where she was named best actress in 2007 for The Queen.
"She was trying to show how rough and raw she is and it was a terrible mistake."
In the confines of the London hotel suite where we meet, however, Dame Helen has no compunction about saying the same word, with some gusto.
"I do think the fuss is completely out of order," the star continues.
"The ludicrousness is when you have to loop swear words for your film to be shown on an aeroplane or on television," she goes on, referring to the common practice of over-dubbing dialogue that might cause offence.
"I did a film where we had to loop the words 'venereal disease'. How idiotic is that?"
Some might feel similarly dismissive about having Prospero - every inch a man when The Tempest was first performed - transformed into 'Prospera' in its latest incarnation.
Yet the Bard of Avon was no stranger to gender reassignment. Back in his day, after all, all the female roles in his plays were played by men.
The tide has changed in the centuries since, with Sarah Bernhardt, Fiona Shaw and Vanessa Redgrave among those to have portrayed his male characters on stage.
For Dame Helen, however, the fact that Shakespeare was bound by the stage conventions of his time represents an opportunity missed.
"I wish to God he had had access to actresses," she says. "I wonder how different his canon of work would have been if he'd been able to write for women.
"And I wonder whether he would have written The Tempest with a woman in mind, because to my mind it fits so incredibly well."
Set on a tropical isle, Julie Taymor's film sees Dame Helen's character take belated revenge on the noblemen of her home country who ousted her as duchess some years previously.
The cast features a colourful mix of acting talents, ranging from Oscar-winning US actor Chris Cooper to flamboyant British comedian Russell Brand.
Mirren and Brand have since reunited in a remake of the 1981 comedy Arthur that sees her play the role Sir John Gielgud took in the original Dudley Moore vehicle.
On that occasion, though, both were on their best behaviour. "Arthur was not the sort of material you wanted to swear on," the actress explains.
So does Dame Helen have her eye on any other Shakespearean roles that might have hitherto seemed beyond her? No, she answers firmly.
"Apart from one vowel, not a word of The Tempest had to change," she explains. "I can't think of any other Shakespeare play where that's the case.
"With a play like King Lear, for example, you would have to twist it really uncomfortably for it to be a woman.
"The whole point of Lear is that he goes around with a band of soldiers and they get drunk and make a racket. It would never work.
"I guess you could have a woman pretending to be a man, but that's not the point."
The Tempest is out in the UK on 4 March.