Bob and Harvey Weinstein sued for $50m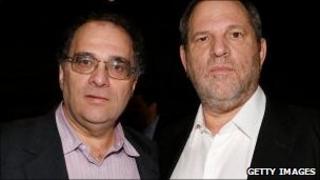 Sibling movie executives Bob and Harvey Weinstein face a $50m (£30.6m) legal action over claims they "sabotaged" production of an animated film.
Its makers allege that Escape from Planet Earth suffered due to "hubris, incompetence, profligate spending and contempt for contractual obligations".
The Weinstein Company said Tony Leech and Brian Inerfeld were let go after refusing to make the film it wanted.
They dismissed the case as "frivolous" and "slanderous".
Mr Leech was the co-director and co-writer of Hoodwinked!, a 2005 animated film distributed by the Weinstein Company.
He, Mr Inerfeld and the latter's company Protocol Pictures filed documents on Wednesday in Manhattan Supreme Court that describe the Weinsteins as "out-of-control movie executives".
'Entirely re-conceived'
The film's makers list a series of events which they claim constituted interference, indecision and breaches of contract.
All resulted in years of delay for their film which was first scheduled for a 2009 release, they said.
The Weinstein brothers, they said, bombarded them with changes that amounted to the film being "entirely re-conceived".
Mr Leech and Mr Inerfeld also allege that the Weinstein Company paid them $500,000 (£306,450) to delay their legal action until after this year's Academy Awards.
At Sunday's ceremony, The King's Speech - distributed by the Weinsteins - won four Oscars including best picture.
Lawyers for Mr Leech and Mr Inerfeld claim that the Weinsteins "did not want to take the chance that their reputations would be sullied by the truth at a time when the voting for the Oscars was underway".
Lawyers for the Weinsteins hit back, saying the case was rife with "irrelevant" personal attacks.
They said that after the film's makers were "let go", the Weinsteins paid them more than $2m (£1.2m) "which is what was called for by their contract".
Rainmaker Entertainment Inc, Escape Productions and JTM Escape Company are also named as defendants in the legal action.
Last month film-maker Michael Moore took his own legal action against the Weinsteins, claiming he was owed millions in profits for his 2004 documentary Fahrenheit 9/11.