Damien Hirst 'pickled shark' to make Tate comeback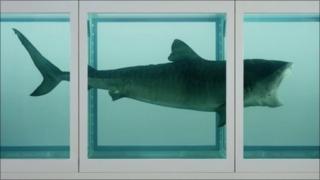 A Damien Hirst retrospective featuring his infamous "pickled shark" is one of the highlights at Tate Modern in 2012.
The exhibition, which will include works by the British artist spanning two decades, will run from 5 April to 9 September at the London gallery.
Its Turbine Hall will host a commission from Tino Sehgal, the Berlin-based artist best known for using people as living sculptures, to mark London 2012.
A "radical" assessment of the work of Edvard Munch will also feature.
Tate Liverpool will exhibit the later works of Turner and Monet, while Tate Britain will explore Picasso's relationship with the UK.
Tate St Ives. meanwhile, will celebrate the 85th birthday of Alex Katz with an exhibition of the US artist's work.
Sehgal's previous work includes The Kiss, which saw a young couple embracing on the floor of New York's Guggenheim museum.
"The year 2012 is a wonderfully apposite time for Tino Sehgal to undertake the Turbine Hall commission," said Sheena Wagstaff, Tate Modern's chief curator.
The hall, she added, would be "excitingly animated and transformed" by what she called "a truly dynamic addition to the year's culture calendar".
Sehgal's installation, which will run from 17 July to 28 October, is one of two Tate projects that are part of the 2012 Cultural Olympiad.
The other is the Tate Movie Project for children, which will culminate in the production of a full animated film.
Edvard Munch: The Modern Eye, running at Tate Modern from 28 June to 14 October, will detail the Norwegian painter's "obsession with the rise of photography, film and stage production".
Its Picasso and Britain exhibition, which runs from 15 February to 15 July, will set out to reveal the artist's "enormous" impact on British modernism.