Adele's top chart reign continues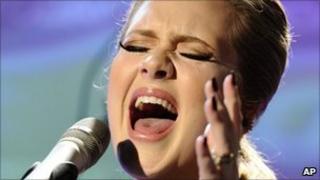 British singer Adele's reign in the single and album UK Top 40 has continued, as she remains at number one in both charts.
The star's single, Someone Like You, has now been number one for three weeks, whilst her second album, 21, has held the top spot for six weeks.
She held off competition from Jessie J and Liam Gallagher's new band Beady Eye in the album chart.
Clare MaGuire and Alexis Jordan also had new albums in this week's top 10.
Adele recently became the first living artist since The Beatles to have two top five hits in both charts simultaneously.
This week her debut album 19 slipped two places to number four, while her other single Rolling in the Deep fell one place to number five.
She has a third single in the top 40 - a cover of Bob Dylan's Make You Feel My Love - which is now at number 27, having fallen two places.
This year's critic's choice Brit Award winner Jessie J was at number two in both charts.
The singer's debut album Who You Are went straight to second place, followed by Beady Eye's record Different Gear Still Speeding.
Rihanna was at number five, followed by Bruno Mars and Clare MacGuire's new release Light After Dark.
In eighth place was Mumford & Sons with See No More, Cee Lo Green's Lady Killer was at number nine and volume four of a collection of hits taken from the hit US series Glee rounded off the top ten.
In the singles chart this week, the highest new entry was the Foo Fighter's new single, Rope, which debuted at number 22.