Rod Stewart tops Hard Rock Calling Festival bill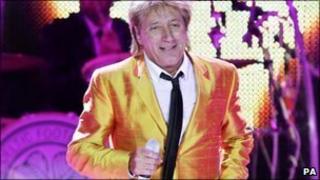 Rocker Rod Stewart will headline the Sunday show at this year's Hard Rock Calling Festival in Hyde Park.
The 66-year-old, who last month became a father for the eighth time, said it sounded "like a perfect night".
Stewart, whose hits include Da Ya Think I'm Sexy? and Sailing, said he intended "to do my part to bring a whole lot of music and more than a few surprises".
Bon Jovi will top the bill on the Saturday at the London festival which runs from Friday 24 to Sunday 26 June.
Meanwhile, Stewart's former collaborator - guitarist Jeff Beck - has revealed the two have discussed a possible reunion to make a blues album.
Beck told Reuters the pair had met in Los Angeles before Christmas to discuss plans and that there was "some mileage" in a project to rework classic blues tracks.
Beck said the ball was now in Stewart's court and that it would not happen until "the skinny geezer sings".
Stewart, who has enjoyed huge record sales in his later career with his Great American Songbook covers albums, performed with the Jeff Beck Group from 1965 to 1969.