The Naked and Famous on hitting the big time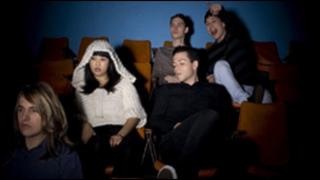 It's not every day that a New Zealand band makes their chart debut at number one - even if you happen to be living in New Zealand.
But that's what happened to art-pop quintet The Naked And Famous, when their first single Young Blood (imagine a less cynical MGMT) raced to the top of the charts.
The group is fronted by co-lead vocalists Thom Powers and Alisa Xayalith, who met while studying at Auckland's music school MAINZ, before signing a record deal and dropping out to record an album.
That record, Passive Me, Aggressive You, also topped the New Zealand charts, leaving the band perfectly poised for a British invasion.
In January, they made the longlist of the BBC's Sound Of 2011 and last week, they took home the NME Award for most promising new act.
"We're not from around here, but cheers!" said Powers as he collected the trophy.
Later, the band, which also comprises David Beadle, Aaron Short and Jesse Wood, sat down with BBC 6 Music to discuss their good fortunes.
How does it feel to win the NME Award?
Ailsa: I was not expecting this It's really amazing, 'cos we're from the bottom of the world and here we are, winning this award. It's a dream.
To go right back to the beginning, how was the band formed?
Thom: We started The Naked And Famous in 2008, back home in New Zealand. Alisa and I wrote most of the demos and Aaron and I produced the earlier stuff. Then Jessie and David came on board early in 2009 and we started working on Passive Me, Aggressive You.
It's a great title for an album...
Thom: It's from a lyric in the title track. It sums up the polarities in the band - male/female vocals, electronic and organic noises.
You've been compared to alternative pop acts like Passion Pit and MGMT, but what were your influences when you started?
Aaron: Thom and myself originally met over a mutual Nine Inch Nails bond - and we got to support them back in 2009 when they played in Auckland, so that was a huge thrill for us.
How did you translate that industrial, hardcore Trent Reznor sound into something as commercial as Young Blood?
Thom: Well the idea of creating a single, a single track... there's an art form to that. Back in the day, it was quite common for singles to sell more than albums - and it's quite cool how that's making a comeback. But at the same time, we're an album band, we've been really focused on producing a body of work. We don't want to be one hit wonders.
What was it like when Young Blood hit number one at home?
Aaron: It was absurd! Setting aside a couple of Pop Idol things, that hadn't happened to a homegrown band for 16 years, or something ridiculous like that. It was a huge deal, especially because we'd been doing everything on our own terms - self-made, self-produced, self-funded.
Have you any idea why it all took off the way it did?
Jesse: I think if we knew exactly why it happened we'd be very rich people.
Aaron: We'd do the same thing over and over again - patent it!
How does it feel to be the critical darlings in the UK?
Thom: I've never been called a darling before! Thank you!
Alisa: It means we can keep doing what we do for the rest of our lives. Or, at least, the rest of this year...
That buzz seems to have started largely online. Are you one of those dreaded 'blog bands'?
Aaron: The web stuff was the biggest surprise for us. It started with Young Blood - we weren't consciously doing any strong big international push with it, yet here we were, logging in every morning and seeing that three more blogs had picked up on our track. That's difficult to take in - seeing it happening without pushing it.
Alisa: It feels like people are genuinely discovering it - which means a lot.
David: It's not like we're bribing people by buying them Happy Meals or something.
Do you Google yourselves?
Thom: It's more about Twitter. The power of Twitter is just scary - clicking the 'mentions' button and seeing all these crazy posts of people mentioning your name. You hardly even have to search these days, there's so much buzz!
Aaron: We don't have the best band name for Google. If you search for 'naked and famous', you have to be prepared for some... er, different results. Turn that safe search filter on.
Where does the name come from?
Thom: It's a line in a Tricky song. Pre-Millennium Tension, which came out in 1996, had a song called Tricky Kid, with a high-pitched demon voice screaming "naked and famous" throughout the track. It's an over the top name, very tongue-in-cheek.
In that song, Tricky's talking about how he struggled to cope with the press attention around his debut album, Maxinquaye. Presumably that's not where you are coming from?
Thom: We've sort of interpreted it as everything that's brilliant and stupid about music culture.
You're playing a lot of festivals this summer. What can people expect from your live show?
Thom: A live band, playing songs, on a stage. We just try our hardest to replicate the album as closely as possible.
Is there any jostling for position with you and Alisa both sharing vocals?
Alisa: No, there's never any trouble with that stuff.
Thom: We form a baseball diamond.
Young Blood is out now. Passive Me, Aggressive You, is released by Fiction Records on 14 March in the UK.