Spider-Man show director Taymor steps down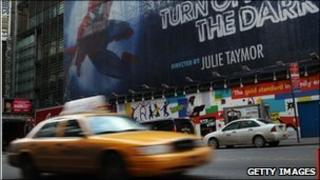 Julie Taymor has stepped down as director of Spider-Man: Turn Off the Dark after the official opening of the musical was delayed for a sixth time.
She will be replaced by a new creative team to oversee rewrites on the show, which was to have opened on 15 March.
Producers said her previous commitments past that date meant she could not "work the 24/7 necessary". She will remain part of the production team.
The Broadway opening has been delayed until "an evening in the early summer".
Producers Michael Cohl and Jeremiah J Harris said in a statement that Taymor's vision had been "at the heart of this production since its inception and will continue to be so".
Playwright and Spider-Man comic book writer Roberto Aguirre-Sacasa, Broadway director Phil McKinley, musical consultant Paul Bogaev and sound designer Peter Hylenski have all been brought in to help with changes to the show.
"We cannot exaggerate how technically difficult it is to make such changes to a show of this complexity," the producers added.
The stunt-heavy production, co-written by Taymor and Glen Berger, features music composed by U2's Bono and The Edge.
The pair said in a statement they had written "a couple of new songs we are very, very excited about putting into the mix".
"This is an epic ride and the standing ovations we have seen from the preview audiences have confirmed our absolute faith in the project," they added.
Despite its problems, which include injuries to cast and crew, technical mishaps and cost over-runs, preview performances have drawn big audiences - last week the show took $1.28m (£790,000).
Wednesday night's Broadway performance was the 101st preview of Spider-Man which compares with the 33 for The Lion King, 26 for American Idiot and 25 for Wicked.
Most Broadway productions try out their shows in front of audiences outside New York in order to smooth out glitches.
But the technically-demanding Turn Off the Dark set was built specifically for the 1,928-seat Foxwoods Theatre.