Hip-hop star Nate Dogg dies at 41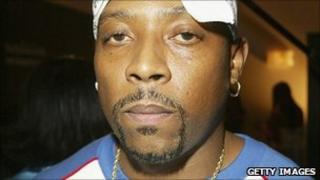 US hip-hop star Nate Dogg, who worked with Snoop Dogg, Warren G and Eminem, has died at the age of 41.
Lawyer Mark Geragos told the Associated Press news agency that the singer died as a result of complications from two strokes he suffered in recent years.
Snoop Dogg paid tribute to a "true legend of hip-hop and R&B".
Nate Dogg, real name Nathaniel Hale, went to school with Snoop and sang on Warren G's hit Regulate as well as tracks by Dr Dre, 50 Cent and Ludacris.
On Twitter, Snoop Dogg said Nate Dogg was "one of my best friends and a brother to me since 1986 when I was a sophomore at Poly High where we met".
Snoop Dogg, Nate Dogg and Warren G began their careers in a rap trio in Long Beach called 213 in the early 1990s.
Nate Dogg went on to feature on such hits as 50 Cent's 21 Questions, Eminem's Shake That and Area Codes by Ludacris.
Ludacris tweeted: "There is a certain void in hip-hop's heart that can never be filled. Glad we got to make history together."
On Sunday, Warren G told fans on Twitter: "For those that don't know, a while back Nate had two strokes. He is in therapy. Thanks again for your support."