Heritage sites get £10m funding boost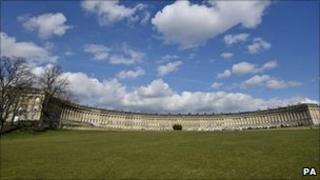 Kettle's Yard, Cardigan Castle and the Royal Crescent in Bath will each get a share of £10m from the Lottery Heritage Fund, it has been announced.
The largest grant of £4.7m will go towards restoring buildings and gardens and a new heritage centre at Cardigan Castle in Ceredigion.
The museum and art gallery at Kettle's Yard in Cambridge will receive £2.32m for new workshops.
Other recipients include the Grade II listed Charleston Farmhouse in Lewes.
The country retreat was a favourite of the Bloomsbury group, a gathering of writers, artists and intellectuals whose members included Virginia Woolf and John Maynard Keynes.
Its £2.4m will go towards a new education and exhibition space.
Bath's world famous Royal Crescent will receive £1.4m million for a restoration project.
The funding will enable the house at No 1 - now a museum - and No 1a - once used as the servants' quarters - to be connected and create a larger museum.
A new exhibition space will show visitors what life would have been like in Bath at the time of the building's construction in the 1700s.
The Crescent was featured in the 2008 film, The Duchess, starring Keira Knightley.
Dame Jenny Abramsky, chairwoman of the Heritage Lottery Fund, said the projects "demonstrate the huge breadth of our investment and our commitment to championing all sorts of heritage".
She added: "We are, however, living in tough times and there is considerable competition for our grants so value for money and offering a wide range of benefits, such as providing local people with training and volunteering opportunities and saving heritage at risk continue to be crucial."