Museums Council axing should be reviewed, say MPs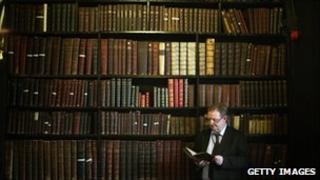 A group of MPs has urged the government to review its decision to axe the Museums, Libraries and Archives Council.
The Culture, Media and Sport committee criticised a "lack of dialogue" with the UK Film Council - which is also due to be wound up next week.
The MPs raised concerns the decision was taken without a "clear idea" of who would take over their duties.
The cuts were announced as part of the government's Spending Review.
It pledged to slash more than 190 non-elected public bodies, including the Public Lending Right - which collects payments for authors whose books are loaned by public libraries.
The Arts Council - itself facing 30% funding cuts - has been asked to take over the Museums, Libraries and Archives Council's remit to promote improvement and innovation in the area of museums, libraries and archives.
But the Culture, Media and Sport (CMS) report said it "will not be as effective" and has urged the government to "review its decision again in 2012".
'Disastrous'
The cuts to the Arts Council's budget have led to concerns that more than 100 organisations in England and Wales are likely to lose their funding altogether, with smaller groups and those located outside of urban areas most vulnerable.
The CMS report admitted the cuts could have a "disastrous" effect but accused the Arts Council of a "gross waste" of money.
A "financially comfortable period" had led the body to spend "to much too high a level" on administration, it said.
The report also highlighted The Public gallery in West Bromwich as "perhaps the worst example" of wasted cash.
The building opened in 2007, two years late and nearly £15m over budget.
The Culture, Media and Sport committee report said the arts had "enjoyed a period of particularly high levels of public investment" adding funding for Arts Council England had increased by over 150% to £453m in the 12 years to 2010.
John Whittingdale, Chair of the Committee said: "While this has created a vibrant and successful arts scene in the UK, there has also undoubtedly been waste.
He added that "cuts in public spending will have a major impact on arts and heritage organisations, forcing some closures and we regret that.
"However, at a time when cuts are biting across the board, it is right that all sectors share the burden."
The Arts Council is due to reveal its funding plans on Wednesday.