Foo Fighters document their fall outs and fame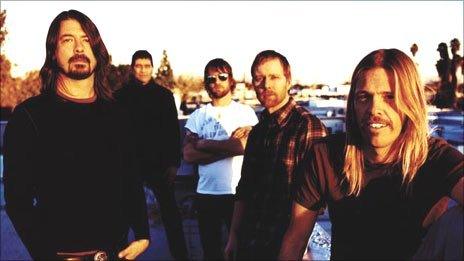 US rock band Foo Fighters were formed in 1994, but the line-up has changed considerably over the years. Now the group have decided to unveil the truth behind the fall outs in a new documentary film, Back and Forth.
"We've been a band for almost 16 years and we've never made that retrospective history," frontman Dave Grohl explains.
The 42-year-old says that no subjects were off limits, although talking about departure of the band's first drummer William Goldsmith was hard.
"That's a touchy subject, one that we'd never really talked about before," Grohl admits.
Goldsmith left in 1997 after finding out that Grohl had replaced all his drum parts on the group's second album, The Colour and the Shape.
To the Foos' surprise, Goldsmith agreed to participate in the film and give his side of the story.
"That was a big step for the movie, because we didn't really part on best terms," Grohl says.
He insists Goldsmith was never kicked out of the band.
"The last time William and I talked about it, we were sitting in a restaurant in Seattle and I said: 'I don't want you to leave the band. Please stay' and he said 'no'.
"That's the bottom line, I asked him to stay and he said no and now we have Taylor Hawkins as our drummer."
Sometimes dubbed in the press as the "nicest man in rock", Grohl laughs when asked whether he lives up to his nickname.
"Well evidentially not because I kick people out of the band," he jokes.
"Fortunately the combination of five people in this band work together, I think everybody is difficult in some way. I can be difficult to work with."
The band are confident fans will enjoy watching their history on the big screen.
But Hawkins, 39, admits he would rather the movie - which sees him talk about his prescription drug overdose in 2000 - was never released.
"The uncomfortable bits are probably going to be the most interesting parts of the movie for people," he concedes.
"Everybody enjoys other people's discomfort though. Everybody loves a train wreck.
"Things were said in the movie that would never have been said. But it's all there, it happened, it's all there, that's real life," the drummer says.
"I never really saw our band as being that traumatic, but you watch the movie and think 'that it is one interesting story'."
As well the behind-the-scenes footage and interviews, the film, which was directed by Oscar-winning film-maker James Moll, also follows the recording of their seventh studio album, Wasting Light.
It was made in Grohl's garage with the help of producer Butch Vig, who worked on Nirvana's breakthrough record Nevermind when Grohl was the group's drummer.
He formed the Foo Fighters following Kurt Cobain's death in 1994.
Grohl admits in the beginning it was frustrating that all anyone wanted to talk to him about was Nirvana.
"When we first started as a band it was kind of painful to talk about Nirvana because Kurt had died and we just wanted to be us.
"And then over time it got a little bit easier. Now I'm really proud of being in that band so I don't mind talking about it, so it's totally fine.
"But if you want to ask me about all the dark, personal stuff, I might cut you off, but there's a lot more to Nirvana than just that."
Even now Grohl is still asked about Nirvana, but concedes teaming up with Vig again meant he was "kind of asking for it".
The Foo Fighters are yet to reach number one in the UK singles chart and to date they have scored two chart-topping albums.
But Hawkins insists they never worry about critics or chart success.
"We know it's a good record. That sounds sort of big-headed, but I know it's a good record."
Grohl says he does not believe rock music has ever been the most popular of genres.
"When Nirvana put out Nevermind, you know who was number one? Michael Bolton. God bless Michael Bolton, but where did Nirvana fit into that?
"And then when the Foo Fighters started coming out, that's when gangster rap was huge."
But their fans have remained loyal even if they have become "older and fatter", he laughs.
The group would not be drawn on what the future holds for them, or how long they intend to keep making music together. But Hawkins is adamant they will always be friends.
"We'll be in each others' lives and friends forever."
Back And Forth is set to be screened in a selection of UK cinemas on April and Wasting Light follows on 12 April
Related Internet Links
The BBC is not responsible for the content of external sites.