UK Film Council hands over funding control to BFI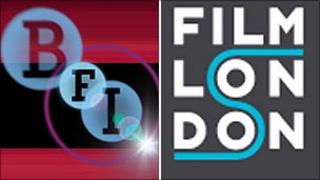 Eight months after it was axed by the government, the UK Film Council officially hands over its funding responsibilities to the British Film Institute on Friday.
Forty-four UKFC posts will transfer to the BFI, with staff moving to its central London headquarters.
The film funding process has continued during the transition.
Shooting on a UK Film Council-backed film, Berberian Sound Studio starring Toby Jones, began in London last week.
"I don't see things will dramatically change with the BFI," the film's producer Keith Griffiths told the BBC.
"The finance team is very much intact going to the BFI, and the user-friendly relationship with film-makers is intact. I'm quite confident that the gloom merchants are wrong."
Berberian Sound Studio is the second feature from director Peter Strickland, whose Katalin Varga won a Silver Bear at Berlin two years ago.
The film, with a budget of just under £1.2m, is filming at Three Mills Studios in east London. Most of the budget has come from the Warp X studio, UK Film Council and Film4.
Set in 1970s Italy, it sees Toby Jones as a shy British sound engineer from Dorking who is hired to mix the blood-curdling sounds on an Italian horror movie.
Griffiths, who has 35 years' experience in the film business, said the funding process with the UK Film Council had gone smoothly.
"There are standard procedures but it's not over-complicated. I can't give you a negative story."
After the four-week shoot the film should be completed by the end of the year, ready for a film festival premiere in 2012.
Oscar success
The UK Film Council closure means the BFI will be responsible for distributing lottery money to film-makers based in the UK.
Founded in 2000, the council was axed last July as part of a cost-cutting drive by the Department for Culture, Media and Sport (DCMS).
Regional agency Film London will take on the role of promoting the UK as a film-making destination.
The UK Film Council backed several successful movies, including Vera Drake, Fish Tank and In the Loop.
It also invested £1m of lottery money in The King's Speech, which won four Oscars in February.
But it also supported a number of flops and was criticised for being unwieldy and costly to run.
Culture minister Ed Vaizey announced in November that the £28m lottery grant the industry receives would be increased to around £43m by 2014.
At Sunday's Empire film awards, film-makers expressed sadness at the Film Council's demise but were positive about the future.
'High note'
"The Film Council has done great things and ended on a high note with The King's Speech," said actor and director Noel Clarke.
"They helped me on two of my films - Adulthood and 4.3.2.1. I'm very sad that they're breaking down but the BFI is going to continue what they do.
"It can only be a good thing that we still have money to help make films for people who wouldn't always get the chance to get their films made."
Kick-Ass writer Jane Goldman said her work with the UK Film Council had been "absolutely great".
"I'm a huge supporter of theirs. It's a difficult time, hopefully things will become streamlined.
"I've got a couple of other projects which I guess will filter into the BFI."
Director Edgar Wright pointed out that the UK Film Council had passed on his zombie movie Shaun of the Dead, but added: "They did make a lot of brilliant films and they are a sad loss to the industry."
Wright is executive producer on Joe Cornish's forthcoming sci-fi comedy Attack The Block, which received UK Film Council support.
Other Council-supported films in pre-production and production include Steve McQueen's Shames, James Watkins's The Woman in Black, Michael Winterbottom's Trishna and Iain Softley's Trap for Cinderella.
The UKFC also provided funding for Phyllida Lloyd's The Iron Lady, in which Meryl Streep plays former PM Margaret Thatcher.