Fred Dibnah play opening on Bolton stage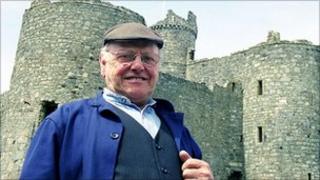 A play about the last years of TV steeplejack Fred Dibnah's life is opening in his home town of Bolton.
Demolition Man was written with help from his widow Sheila, who Dibnah cut out of his will before he died in 2004.
Mrs Dibnah, who is played by former EastEnders star Michelle Collins in the play at the Bolton Octagon, said it was a "positive" portrayal.
"I want Fred to be remembered for being a great man, not because he cut his wife out of his will," she said.
The play follows the story of the couple's marriage and Fred Dibnah's quest to restore a beloved traction engine before his death from prostate cancer at the age of 66.
It is being staged by Olivier Award-winning director David Thacker with a script by Aelish Michael, who consulted Mrs Dibnah about her husband and their relationship.
"It doesn't make Fred look bad, it's a very tender portrayal of Fred," Mrs Dibnah told BBC News.
"My initial response was, should we tell people about his struggle to get this engine [working] and the effects that he had on our marriage? I thought it might be a bit kiss and tell, but it's not, because it's a positive thing."
Mrs Dibnah has also been giving Collins lessons in how to speak with a Bolton accent. Colin Connor plays her late husband.
Fred Dibnah's enthusiasm for Britain's industrial heritage first made him a well-loved screen personality in the 1970s.
His TV career enjoyed a revival after meeting Sheila in the 1990s, when he fronted series such as Fred Dibnah's Industrial Age and Made in Britain.
But Mrs Dibnah, the presenter's third wife, went to the High Court to secure a portion of his estate after discovering that he had cut her out of his will.
"One of the conditions of the settlement was that I'm not to discuss it in public," she said. "Suffice to say that it's all settled now, and thank goodness for that. I'm concentrating on remembering the good times with Fred."
The play runs from Thursday until 7 May.