Marion Cotillard keeps White Lies in the family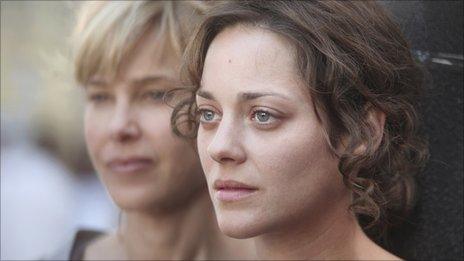 Oscar-winner Marion Cotillard and actor-director Guillaume Canet are the Gallic equivalent of Brangelina. They've been together since 2007 and their first child is due in May.
They've also just collaborated in a different way, with Canet directing his girlfriend for the first time in Little White Lies (Les Petits Mouchoirs).
"We wanted to work together in this way," says Canet. "Although I have to say, poor her.
"I was possibly harder on her than anyone else as I didn't want anyone to think that I had hired her out of favouritism."
In Little White Lies, a group of 30 and 40-something friends go away together on their annual vacation in south-west France.
Their relationships with each other are sorely tested and they finally have to own up to all the "little white lies" they have been telling each other for years.
For 37-year-old Canet, an award-winning actor and director, it was the most personal script he had ever written.
"It all started in hospital a few years ago," he says.
"I had been working too hard on the film Tell No One and I caught a virus. While I was in hospital, I realised I had not been enjoying my life.
"I had not been spending time with my family and friends and overworking because I wanted to hide away from a lot of things.
"I had also lost a good friend and it showed me how short life is.
"I also wanted to make a movie about friendship, but about those little lies that you don't tell each other for fear of hurting the other one," he continues.
"It's like the dust you sweep under the carpet. After a while it builds up.
"So many people, when they hit 35, are living life so fast and not taking any time to digest what is going on, what they truly want."
Canet built up an ensemble cast of some of his best friends in the French acting world and asked them to all go on holiday for real before the shoot.
Did art mirror life? Canet refuses to give details but does admit: "I will never look at the place in the same way again.
"I really enjoyed the experience, though I am not sure how much Marion liked it.
"At night after the shoot, normally as actors we like to relax and think about something else.
"But she was coming home to a director who was obsessing about the film and kept talking about it and any problems we were having.
"She didn't get much of a break," Canet reveals. "However, I must have done something right because she says she will work with me again as a director."
He might have to join the queue for her acting services though. Since Cotillard's Oscar win for La Vie en Rose she's been in demand in Hollywood.
She has starred in blockbusters like Inception and Nine and is rumoured to be involved in Christopher Nolan's third Batman film, The Dark Knight Rises.
Yet the actress's return to her native land has so far paid off. Little White Lies has proved a big hit at the French box office, with critics describing her performance as "outstanding".
"She loves working in France," says Canet. "And actually she would love to work there more.
"But the problem is that a lot of French people think that when you work in Hollywood you don't want to work in France.
"It's totally stupid. However, she has a lot more projects lined up at home now."
Both Canet's commitment to Cotillard and Little White Lies came out of a mid-life crisis. So has he resolved everything he was feeling before making the movie?
"Oh yes, I feel released," says the actor best known to British audiences for his role in Danny Boyle's The Beach.
"I learned to be wise, and just to enjoy life around you, and the one around you, the one you love."
Little White Lies is out in the UK on 15 April.
Related Internet Links
The BBC is not responsible for the content of external sites.