John Wayne eyepatch to sell at auction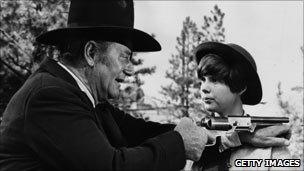 The eyepatch worn by John Wayne in the 1969 film True Grit is to be sold at auction, it has been announced.
Other personal items, including the US actor's Golden Globe which he won for playing Marshal Rooster Cogburn in the movie, will also go under the hammer.
"All these are items that could either stay stored somewhere, or be let loose to the people," the actor's son Ethan Wayne said.
Heritage Auctions said the sale would take place in Los Angeles in October.
The actor's cowboy boots, hats, driving licence, passport and various movie scripts with Wayne's handwriting have also been handed over to sell.
Items are expected to go for anything between £60 ($100) and £30,000 ($50,000).
Wayne, who also runs John Wayne Enterprises, said that after his father died in 1979, the family never looked through Wayne's personal items, which were kept in storage.
"We thought, what's the best use of these items?" he told the Reuters news agency.
"My family and I have a few personal items and a lot of memories, so turning the rest over to his fans is the right thing to do."
The star made more than 170 movies, mainly Westerns. He died in 1979 of stomach cancer aged 72.
Prior to the auction, a public exhibition of the John Wayne collection will be held in Dallas, Texas, and New York City in September.
All proceeds from the sale will go to John Wayne Enterprises, which supports and funds the John Wayne Cancer Foundation.
True Grit was remade last year with Jeff Bridges in the Rooster Cogburn role.
Related Internet Links
The BBC is not responsible for the content of external sites.