From Here to Eternity uncensored 60 years later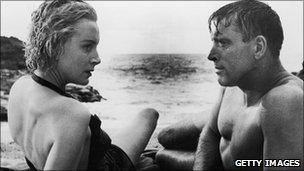 An original version of 1951 novel From Here to Eternity is to be reissued digitally, with previously censored references to homosexuality restored.
The heirs of author James Jones have struck a deal with ebook firm Open Road to put out a new edition that includes two scenes with gay content.
Jones's novel, about US soldiers serving in Hawaii in the months prior to Pearl Harbor, was filmed in 1953.
The uncensored novel will be made available online from 10 May.
It will include a scene in which Private Angelo Maggio - the character played by singer Frank Sinatra in the film - reveals he is paid to have oral sex with another man.
Another scene referring to a military investigation into possible homosexual activity will also feature in the text.
The restored version will also include profanity that was considered too extreme for Eternity's original publisher Scribner.
Jones, who served in Hawaii before World War II and fought at Guadalcanal, had objected to the cuts but eventually acquiesced.
"My father fought bitterly to hold on to every four-letter word in the manuscript," his daughter Kaylie told the New York Times.
"The publisher was concerned about getting through the censors."
The film of From Here to Eternity also starred Burt Lancaster and Deborah Kerr and won eight Oscars, including one for Sinatra.
Open Road are also releasing six other Jones titles digitally, one of which - To the End of the War - has never been published before.
Related Internet Links
The BBC is not responsible for the content of external sites.