Prescott weighs in on phone-hacking row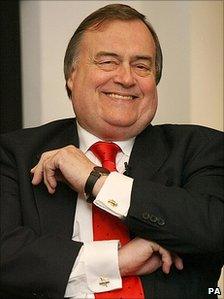 This round-up of today's biggest media industry stories reports on the return of Big Brother and latest on the phone-hacking scandal.
Lord Prescott has called for News Corporation's takeover of BSkyB to be delayed until the police inquiry into phone-hacking allegations at the News of the World is complete, the Guardian reports. He was speaking in the Lords, after two senior journalists were released on police bail after being arrested. The Culture Secretary Jeremy Hunt is due to deliver a final verdict on the proposed takeover towards the end of April, after Parliament returns from its Easter break.
The Financial Times says a government spokesman in the House of Lords has indicated that there will be a public inquiry into the phone hacking scandal once criminal investigations are complete, and hinted at additional regulation of the press. Lord Wallace of Saltaire told the upper house that some journalists had behaved like rogue bankers, who wanted light-touch regulation in exchange for an expectation that they would behave responsibly.
Wayne Rooney's lucrative sponsorship deal with Coca-Cola has been ended amid criticism over his foul-mouthed TV outburst on the pitch, the Telegraph reports. The soft drinks giant has confirmed it will not be renewing its £600,000-a-year contract with the Manchester United striker, who had helped advertise Coke since 2005.
Plans to switch off analogue television in London are to be announced later today, the BBC reports. A third of UK homes have already switched to digital TV but next year's switchover in London is set to be the biggest and most complex, ahead of the Olympics and the Queen's Jubilee celebrations. Twelve million viewers will be affected.
Meanwhile, the BBC has been criticised by a Commons committee over a digital media scheme which was meant to save £17.9m, but ended up costing about £38.2m. The public accounts committee said a £79m contract to deliver the Digital Media Initiative should not have been allowed without open competition. The broadcaster said the project would save money in the long run.
Mark Lawson says Channel 4 was right to drop Big Brother, and Channel 5 is right to bring it back, because the two networks have different needs. The Guardian reports that the hit reality show will return with a celebrity edition in the summer, under a two-year deal with Endemol.
The BBC Trust chairman Sir Michael Lyons has said the celebrity boat party during the BBC's election night TV coverage was "the most uncomfortable" of his tenure. He told The Media Show on Radio 4: "It was a misdesigned initiative if ever there was one." The Daily Mail says his admission "is all the more telling because his tenure covered BBC crisis [sic] such as the Ross/Brand affair, the fallout from Queengate and issues of inflated management and talent pay".