Virgin Media staff in X Factor bet scam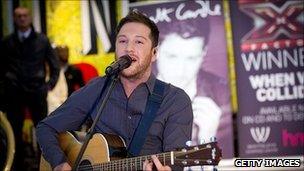 Three Virgin Media employees have been sacked after using internal data on X Factor voting to bet on the show.
The three staff members bet on the outcomes of the show's weekly eliminations.
The Gambling Commission investigated after being alerted to suspicious activity by online bookmaker Betfair.
"We are satisfied that the bets placed were substantially unfair as the individuals involved had inside information," the commission said.
"We have worked closely with all the bodies involved to ensure that those individuals do not profit from their activity and that appropriate action has been taken to prevent a recurrence of such activity in the future."
Two of the staff members monitored the number of phone votes being cast by Virgin Media customers for each contestant, while a third was involved in placing the bets.
A Virgin Media spokesperson said the company took the matter "extremely seriously" and had co-operated with the Gambling Commission and Ofcom to look into the case.
"Following a thorough investigation, we can confirm this was an isolated incident where three individuals were found to have misused their legitimate access to internal data to identify the volume of calls being made," a statement said.
The employees were suspended when the allegations were made and have since been dismissed.
"At no point was any individual customer data shared and the outcome of the phone votes was not affected," the statement continued. "However we have since introduced additional monitoring to our systems to ensure this cannot happen again."
According to the Gambling Commission, £16,000 worth of bets have been declared void, the first time such powers have been used under the Gambling Act 2005.
Almost 15.5 million votes were cast during the last series of X Factor, which was won by Matt Cardle.
Related Internet Links
The BBC is not responsible for the content of external sites.