Miriam O'Reilly lands new BBC Crimewatch role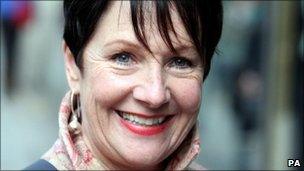 Broadcaster Miriam O'Reilly, who won an age discrimination tribunal case against the BBC, has landed a new presenting role on BBC One.
The 54-year-old will join Rav Wilding as a presenter for the Crimewatch Roadshow when it returns in June for its third series.
In January, O'Reilly won her case after claiming she had been dropped unfairly as a Countryfile presenter.
The BBC said it accepted the tribunal outcome and apologised.
"I'm delighted to be working on a programme that can really make a difference," O'Reilly said.
"It's a chance for me to use my journalistic skills and I'm really looking forward to getting back to the buzz of live TV".
Wilding will host the programme from the studio, whilst O'Reilly will travel around the UK reporting from various different locations.