3D World War II footage to be shown on TV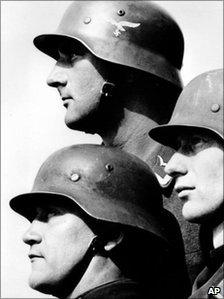 Previously unseen 3D footage of World War II, showing a German anti-aircraft crew in 1943, is to be shown on TV.
Footage including a 2D Nazi film explaining how to use 3D technology will also feature on the hour-long show, to be aired on Sky 3D on 26 May.
Stereoscopic film found in the Imperial War Museum's archives and 3D allied reconnaissance photos will also be included in the WWII in 3D programme.
Sky 3D director John Cassy said the footage was "a remarkable find".
"3D is often seen as a modern innovation but this incredible footage reminds us that it's been around for decades," he added.
The show will also feature colour 3D photographs secretly taken by a civilian in occupied France.
Related Internet Links
The BBC is not responsible for the content of external sites.