Middleton family complain of press harassment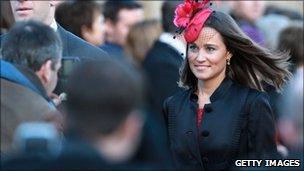 This round-up of today's biggest media stories reports on concern that photographers are harassing Kate Middleton's mother and sister and further plans by the BBC to cut costs and increase efficiency.
Kate Middleton's family have contacted the Press Complaints Commission to raise concerns about alleged "harassment" by photographers, reports the BBC. Its royal correspondent Peter Hunt said Carole Middleton and her daughter Pippa had been followed by agency photographers. The Middletons have not made an official complaint but the press watchdog has sent an advisory note to newspaper, magazine and broadcast editors to remind them of their obligations under the editors' code of practice.
In the Guardian Roy Greenslade says this is the first incidence of antagonism with the press to emerge in public ahead of Kate Middleton's marriage to Prince William on 29 April. He quotes a St James's Palace spokesman as saying that the Middleton family and St James's Palace "remain grateful to editors for their restraint and adherence to the code over the past few months".
The BBC will eliminate two layers of management in a drive for simplicity and efficiency but "has admitted that seven tiers will still remain" says the Daily Telegraph. Caroline Thomson, the BBC's chief operating officer, said the corporation would also cut its property portfolio by 25 to 30% by 2015, removing 170,000sqm from its current footprint.
The Evening Standard reports that a BBC World Service newsreader has resigned after extraordinary claims that he helped foment a revolution in Kyrgyzstan. It says Arslan Koichiev, 45, who presented and produced a daily show for the country's six million people, allegedly acted as mentor for a rebel leader.
Three Virgin Media employees have been sacked after using internal phone-vote data to bet on ITV's talent show X Factor. The BBC reports the Gambling Commission investigated after being alerted to suspicious activity by online bookmaker Betfair. Virgin Media said the company took the matter "extremely seriously" and had co-operated fully with the Commission and Ofcom.
The Telegraph says the government is going to hire a "Twitter Tsar" - or Executive Director of Digital - on an annual salary of £142,000. The successful candidate will be one of the best paid civil servants in Whitehall. A Cabinet Office insider tells the paper it replaces two jobs and "to call this role a Twitter Tsar is like calling Richard Branson a flight steward."
The London TV region's analogue signal will be switched off from 4 April 2012, Digital UK has said. The BBC reports a third of UK homes have already switched to digital, but the London switchover will be the biggest, affecting 12 million viewers.