New York film director Sidney Lumet dies at 86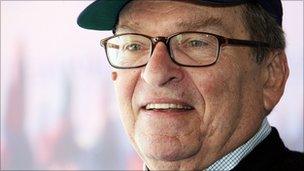 Acclaimed film director Sidney Lumet, whose New York-based films were regarded as classics, has died at the age of 86, his family says.
He died at his Manhattan home of lymphoma, his step-daughter said.
Lumet rose to prominence with the jury-room drama 12 Angry Men; other major films included Dog Day Afternoon, Network, and Serpico.
The son of actors, he began as an actor in Yiddish theatre in New York, before moving into film direction in the 1950s.
His first film, the low-budget legal drama 12 Angry Men, was nominated for a string of Oscars.
Throughout the rest of his career he was regarded as a master of the cinematic craft, respected by actors and fellow directors alike.
"While the goal of all movies is to entertain, the kind of film in which I believe goes one step further," the New York Times quoted him as saying.
"It compels the spectator to examine one facet or another of his own conscience. It stimulates thought and sets the mental juices flowing."