Director Sidney Lumet remembered by Hollywood stars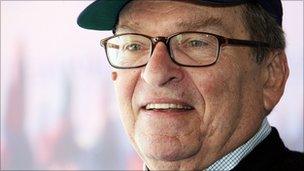 Hollywood stars including Woody Allen, Martin Scorsese and Al Pacino have paid tribute to film director Sidney Lumet - maker of New York-based classics including 12 Angry Men - following his death at the age of 86.
Fellow New York director Allen said Lumet was "definitely the quintessential New York film-maker".
"I'm constantly amazed at how many films of his prodigious output were wonderful and how many actors and actresses had their best work under his direction," said Allen.
"Knowing Sidney, he will have more energy dead than most live people."
Lumet died at his Manhattan home of lymphoma, his step-daughter said on Saturday.
Lumet rose to prominence with the jury-room drama 12 Angry Men; other major films included Dog Day Afternoon, Network, and Serpico.
Lumet's passing has prompted other film-making contemporaries to pay tribute to his cinema legacy.
Fellow director Scorsese said Lumet's death marked "the end of an era".
Lumet was a "New York film-maker at heart, and our vision of the city has been enhanced and deepened by classics like Serpico, Dog Day Afternoon and, above all, the remarkable Prince of the City," he said.
Actor Pacino, who starred in Serpicio and Dog Day Afternoon, said it would be difficult to imagine there would be no more films from the director, adding: "All the more reason to take good care of the ones he left behind."
Actor Phillip Seymour Hoffman, who starred in Lumet's last film, 2007's melodrama Before the Devil Knows You're Dead, also paid his respects.
"He was a true master who loved directing and working with actors like no other.
'Guidance and inspiration'
Musician Quincy Jones, who scored music for some of Lumet's movies said he was devastated to learn of his death and that the film-maker had given him a start in movies with The Pawnbroker.
"Sidney was a visionary film-maker whose movies made an indelible mark on our popular culture with their stirring commentary on our society.
"Future generations of film-makers will look to Sidney's work for guidance and inspiration but there will never be another who comes close to him."
Beyond the movie industry, Lumet's passing has also been marked by the mayor of New York, the city that inspired such affection in the director and frequently became a character in its own right in his films.
Mayor Michael Bloomberg called Lumet "one of the great chroniclers of our city".
Lumet once said of his love of New York: "It's not an anti-LA thing. I just don't like a company town."
The son of actors, he began as an actor in Yiddish theatre in New York, before moving into film direction in the 1950s.
Throughout his career he was regarded as a master of the cinematic craft, respected by actors and fellow directors alike.
"While the goal of all movies is to entertain, the kind of film in which I believe goes one step further," the New York Times quoted him as saying.
"It compels the spectator to examine one facet or another of his own conscience. It stimulates thought and sets the mental juices flowing."
He is survived by his wife, daughters Amy and Jenny Lumet, stepchildren Leslie and Bailey Gimbel, nine grandchildren and a great-granddaughter.