Chris Evans apologises for late 5 live arrival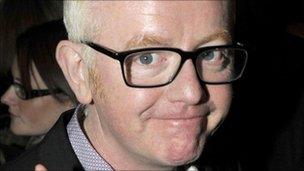 Presenter Chris Evans has apologised after turning up almost half-an-hour late for his Radio 5 live show on Saturday night.
Evans was due to present live coverage of the third round of the US Masters Golf from Augusta, with the programme starting at 2100 BST.
But the show had to start without him, with Evans arriving 25 minutes later saying he had forgotten what time the show was due to start.
"I apologise profusely," Evans said.
"I ran in from where I was - well, I did the Augusta shuffle."
Asked by his co-presenters where he had been, Evans said: "I've been watching the golf. That's what we came to do.
"I had no idea we started at 9pm. I was in the foyer having a water and a chat."
A breathless Evans said he had run up the stairs to the studio after being alerted to his mistake.
"How's it going anyway? I had such a great introduction written and everything. Oh well. I'm here now," he added.
A BBC spokesperson said Evans's tardiness was down to a "pure misunderstanding" over the start time of the show.
The former Radio 1 DJ became known during his two-year stint on the station's breakfast show during the mid-1990s for his erratic time-keeping.
Evans's main presenting role is on his Radio 2 breakfast show, which he took over from Sir Terry Wogan in January 2010.
Evans now also co-presents the Friday night edition of the One Show on BBC One.