Elizabeth Taylor's jewellery collection to be auctioned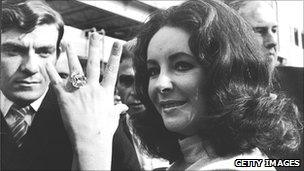 Actress Elizabeth Taylor's prized jewellery collection is to be sold at auction, Christie's has said.
The collection, which includes some of the world's most expensive stones, will be sold along with pieces from the star's art collection, some of her clothing and other memorabilia.
Christie's said it was planning a series of auctions dedicated to Taylor after reaching an agreement with the late actress's family.
Details will be announced this spring.
The actress died in Los Angeles last month aged 79, after a long history of ill health.
She was known for being passionate about diamonds and she published a book in 2003 entitled Elizabeth Taylor: My Love Affair with Jewelry.
In another unconnected auction announced earlier this month, a collection of letters written by the star when she was a teenager to her first love William Pawley are to be sold online.
Mr Pawley was Taylor's fiance and the son of a former US ambassador.
Written between March and November 1949, the 66 letters give an insight into Taylor's rise to Hollywood fame.
The collection was bought two years ago from Mr Pawley, who is now retired, a spokesman for RR Auctions said.
"We rarely come across a collection as rich as this, the letters are in a pristine condition," Bobby Livingston said.
"William Pawley clearly loved and cherished them for all these years."
The online auction will take place between May 12 and 19.
Related Internet Links
The BBC is not responsible for the content of external sites.