Julian Fellowes painted by artist Daphne Todd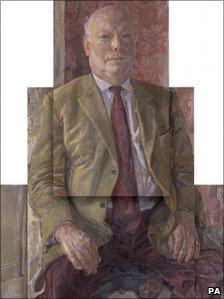 A portrait of Downton Abbey creator Julian Fellowes by Daphne Todd is to feature in a new exhibition.
The 61-year-old, now writing a mini-series about the Titanic, said he found the picture "vivid and even shocking".
The painting will feature in the Royal Society of Portrait Painters' annual exhibition in May.
Todd, the society's ex-president, won last year's BP Portrait award with a painting of her 100-year-old mother on her deathbed.
Lord Fellowes, who won an Oscar in 2002 for his script for Gosford Park, said he had been impressed by Todd's "complete lack of interest in any photographic record".
"She paints entirely from life," he explained. "What she has not seen for herself, she will not use."
Todd had achieved a good likeness, he went on, "because of the process in which she carefully and meticulously dissected my face and form with her eyes and then reconstructed it on the canvas."
Todd, who in 1994 became the Royal Society of Portrait Painters' first female president, said she had found Lord Fellowes "almost disconcertingly still" for an actor.
"With his smooth baby skin, faint eyebrows and decidedly uncraggy contours it was as difficult to pin down the evidence of his inner character as it is with a young girl," she said.
Lord Fellowes will open a private view of the exhibition at the Mall Galleries in central London on 4 May.
The exhibition runs from the following day until 20 May.
Related Internet Links
The BBC is not responsible for the content of external sites.