New questions on News of the World phone-hacking row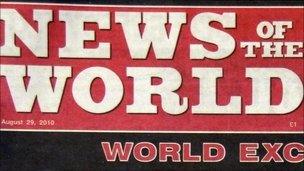 This round-up of today's biggest media industry stories includes new questions in the News of the World phone-hacking row.
The Guardian says it understands that Sir Gus O'Donnell, the cabinet secretary, vetoed an attempt by Gordon Brown to hold a judicial inquiry into phone-hacking at News of the World because it would have been too sensitive before a general election.
The BBC reports lawyers for two of the News of the World's phone-hacking victims have said the paper's apology and offer of compensation are not enough. Legal action by actress Sienna Miller is to continue and publicist Nicola Phillips has rejected an offer.
Boris Johnson says in the Daily Telegraph it wasn't only the News of the World that was involved in phone-hacking. He calls for a process of truth and reconciliation, with every editor and every proprietor summoned to appear before an inquiry and confess. "Before it is dragged from them, they need to admit to all the bugging and hacking that they allowed - wittingly or unwittingly - in their organisations" he says.
Dan Sabbagh says in the Guardian that the most serious admission by New International is that the News of the World hacked into the phone messages of the culture secretary Tessa Jowell.
The chairman of the reconstituted British Film Institute, which has taken over film lottery funding from the UK Film Council, Greg Dyke, is interviewed by The Independent. He says that the story "got around, spread partly by people at the Film Council, that this was the end of government support for film". In fact, he insists, over the next financial year the BFI would invest £18m directly into film production, an increase of £3m from last year. This will rise to £21m after the 2012 Olympics.
In the Sunday Times, AA Gill and Rod Liddle debate the merits of the BBC's move of hundreds of staff to Salford.
The BBC was forced to pull a lavish TV drama from the schedules days before broadcast after a row broke out over screening rights according to the Daily Mail. Room at the Top, an adaptation of John Braine's 1957 novel, had been heavily trailed. The corporation said it had no plans to screen Room at the Top until the dispute is resolved.