News International UK boss 'to be questioned by police'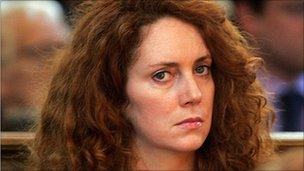 This round-up of today's media industry stories links to the latest on new developments involving the chief executive of News International, Rebekah Brooks, a former editor of the Sun and the News of the World.
The Guardian reports that detectives investigating illegal news gathering at the News of the World are planning to question Rebekah Brooks, the paper's former editor who is now Rupert Murdoch's chief executive in the UK. It says the revelation came as Mrs Brooks denied to MPs that she had "knowledge of any specific cases" of police officers being paid for information by any newspaper - despite having told MPs eight years ago that her journalists had paid officers in the past.
The Independent says Mrs Brooks insisted she had been speaking generally about the newspaper industry when in 2003 she told MPs: "We have paid the police for information in the past."
The ITN chief executive, John Hardie, saw his total remuneration package almost triple last year to £682,000 as the broadcaster recorded a pre-tax profit of £400,000, reports The Guardian. Mr Hardie received a base salary of £350,000 and a further £300,000 in bonus and benefits payments, according to the broadcaster's full-year accounts published last week.
Sara Nathan says in the Daily Mail that Simon Cowell has told ITV chiefs that he will not be a judge on The X Factor in the UK this year. Executives were embroiled in a "desperate" bid to keep him on the show after he said that filming both the US and British versions at the same time would be too much. But "an ITV insider" said last night that the balancing act "is just not feasible".
Kate Middleton's smiling face features in many papers this morning, on her last public appearance before her wedding to Prince William. But her family have complained to the Press Complaints Commission about harassment by photographers. The BBC's royal correspondent Peter Hunt says the relationship between the royals and those behind the camera lenses is delicately balanced.