Turner Prize artists join 2012 Titian project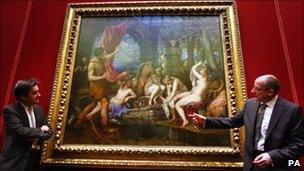 Two Turner Prize winners are to team up with the Royal Ballet and the National Gallery for a 2012 Olympic project.
Mark Wallinger and Chris Ofili will work with choreographers on the venture, inspired by three works by the Renaissance painter Titian.
The project will culminate in a Titian display at the gallery and three one-act ballets at the Royal Opera House.
Poet Laureate Carol Ann Duffy and poet Simon Armitage are also involved in the ambitious collaboration.
According to organisers, it will aim to bring British artists and dancers together to celebrate some of the most valuable paintings in the National Gallery's collection.
Wayne McGregor and Christopher Wheeldon are among the choreographers involved in the project, which will take Ovid's epic Roman poem Metamorphoses as its inspiration.
Titian himself used the poem as the basis for his paintings Diana and Actaeon and its sister work, Diana and Callisto.
The ballets will premiere at the Royal Opera House in the summer of 2012.
Related Internet Links
The BBC is not responsible for the content of external sites.