Superman comic stolen from Nicolas Cage is found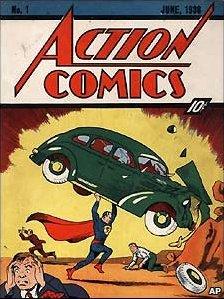 A 1938 comic featuring Superman's debut that has been recovered in a storage locker in the US appears to be the copy stolen from Nicolas Cage, police say.
The 47-year-old actor, who accepted an insurance payout after the 2000 theft, said last week's find, in Los Angeles, was "divine providence".
He said he was hopeful the "heirloom", a mint condition copy of Action Comics No 1, would be returned to his family.
In March 2010, a copy of the comic sold for $1.5m (£920,000) at a US auction.
Detective Don Hrycyk, of the Los Angeles Police Department's art theft department, said an investigation into the theft and recovery - from a locker in the San Fernando Valley - was in its early stages.
He said a number of false leads had been generated over the years, including a 2002 tip-off that the comic was in a safety deposit box in Tennessee.
When detectives followed the lead, they found a replica of the comic's cover wrapped around a woman's underwear catalogue.
Detective Hrycyk said it was unclear if Cage would be reunited with the comic and that the actor would have to work out details with the insurance company.
Action Comics No 1 - of which 100 are said to still be in existence - sold originally for 10 cents.
Comic book fan Cage was once linked to a film version of Superman and has a son called Kal-El - the birth name given to the indestructible hero.