Talking Heads' David Byrne settles election song case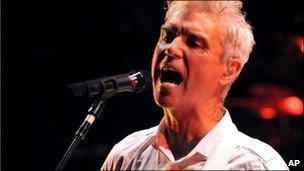 Singer David Byrne has reached a legal settlement with Florida's ex-governor over the unauthorised use of a Talking Heads song in an election campaign.
Byrne had sued Charlie Crist after Road to Nowhere featured in a YouTube video attacking Marco Rubio, Crist's opponent in last year's US Senate race.
Byrne said he was one of a few artists with "the bucks and guts to challenge such usage".
On Monday Crist put a video on YouTube in which he apologised to the singer.
"Should there be any future election campaigns for me, I will respect and uphold the rights of artists and obtain permission or a licence for the use of any copyrighted work," he said in the video.
Byrne had originally sued Crist for $1m (£613,000). The full terms of the settlement have not been released.
In a statement, Crist said he had met Byrne last week to discuss the case and that the 58-year-old "couldn't have been a better guy".
"As I told him, I was sorry it ever happened at all," he added. "He couldn't have been more of a gentleman about it."
Scottish-born Byrne said he was feeling "very manly" after his trip to Tampa to meet Mr Crist.
"Other artists may actually have the anger but not want to take the time and risk the legal bills," he said. "I am lucky that I can do that."
He said that by standing up for his rights as a composer, the unauthorised use of songs in political campaigns could be "made to be a less common option or, better yet, an option that is never taken in the future".
Road to Nowhere, a number six hit single in the UK that failed to chart in the US, featured on the band's 1985 album Little Creatures.
Related Internet Links
The BBC is not responsible for the content of external sites.